It's a styling question we're asked about so often by guys: "How do you wear a blazer with jeans?" Followed up by the most pertinent part of this wardrobe conundrum… "and not look like Jeremy Clarkson?"
And it's a fair point, he is dastardly in every style sense of the word but, Clarkson aside, the jeans-jacket combo is an incredibly versatile look. It comes with a plethora of options that allow you to smarten up for work or an evening date, or dress down and rock an eighties-inspired look with boxy cuts and faded denim.
Either way, the jacket brings an elevated touch to a wardrobe classic. As New & Lingwood's product and marketing director, Simon Maloney reflects: "Thirty years ago a blazer and jeans double act was the peak of preppy style; but as with many things in fashion, it's inevitably become not only widely acceptable but sharp to wear the two timeless items together".
The Rules Of Wearing A Blazer With Jeans
Alas, something so simple can easily go wrong, so let's start with some ground rules. Where it usually goes array is when we take a suit, break it apart and throw the suit jacket on over jeans. (For the record, only Ralph Lauren can do this. And that's only because he lives on a ranch and because he's Ralph Lauren).
Then, the other mistake is wearing said suit jacket with a plain white formal shirt with boot-cut dad-jeans, which screams boarding-school sixth former on a weekend ramble. So, the key to avoid breaking these rules is picking a blazer that isn't part of a suit and one that offers a similar formality and look in its fabric to the style of jeans and the layer under the jacket (we'll get onto some examples in just a minute).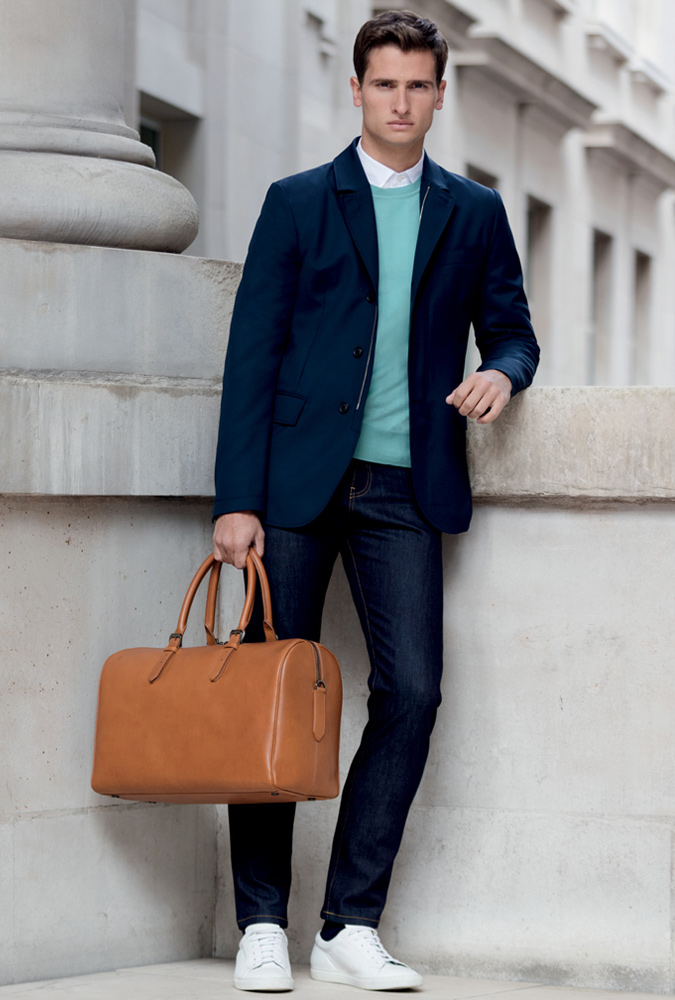 Gieves & Hawkes
And, just as all jackets don't have to be suit jackets and not all blazers have to be navy with gilded gold buttons, remember. And not all jeans have to be jeans in the traditional sense of classic 501 blue.
Feel free to experiment with different shades of blue, grey and black, or even jeans that are shaped like trousers (think Brunello Cucinelli's tapered, pleated jeans, rolled at the cuff). And as Maloney notes: "Try to ensure there's a contrast between the blazer and the jeans – you don't have to match the shade exactly," otherwise we're back in suit territory.
As with the choice of blazers out there, there's a huge range of styles and colours that, when paired together, bring blazers and denim together as a brilliant smart casual look.
Ways To Pair A Blazer with Jeans
Midnight Monochrome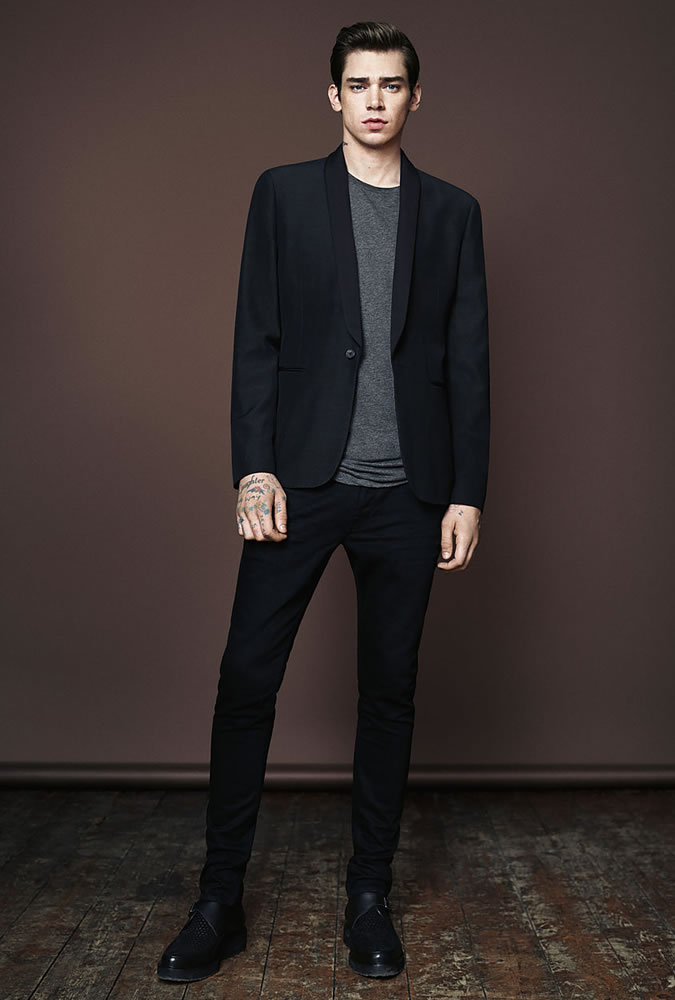 AllSaints
You know the feeling – you have an evening event, it's smart, but not too smart. It's not office formal, but it's not full-on black tie, and you're wondering what the right combination of blazer and trouser would look like. This is when you pull on some smart, slim black jeans, a classic T or light cotton knit in white, grey or black – keep the monochrome thread throughout and finish the look with a black or dark grey blazer or contemporary slim cut, single-breasted evening jacket. "For a more sophisticated look, keep the blazer dark and jeans to a dark denim, in a tapered fit with a narrow ankle," says top menswear stylist Kenny Ho.
If the jeans are slim cut, keep the jacket slim, too. And as it's a casual take on what is traditionally a formal colour, avoid accessorising with a pocket square, as this would break the cleanness of the jacket and look too dressed up. Finish the look with some simple black suede chukka or Chelsea boots.
Key Products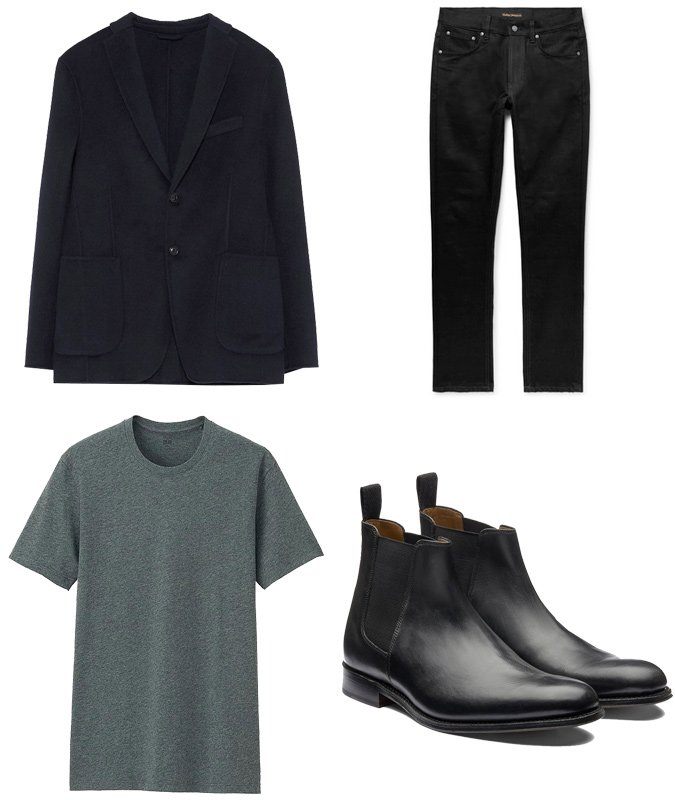 Throwback Threads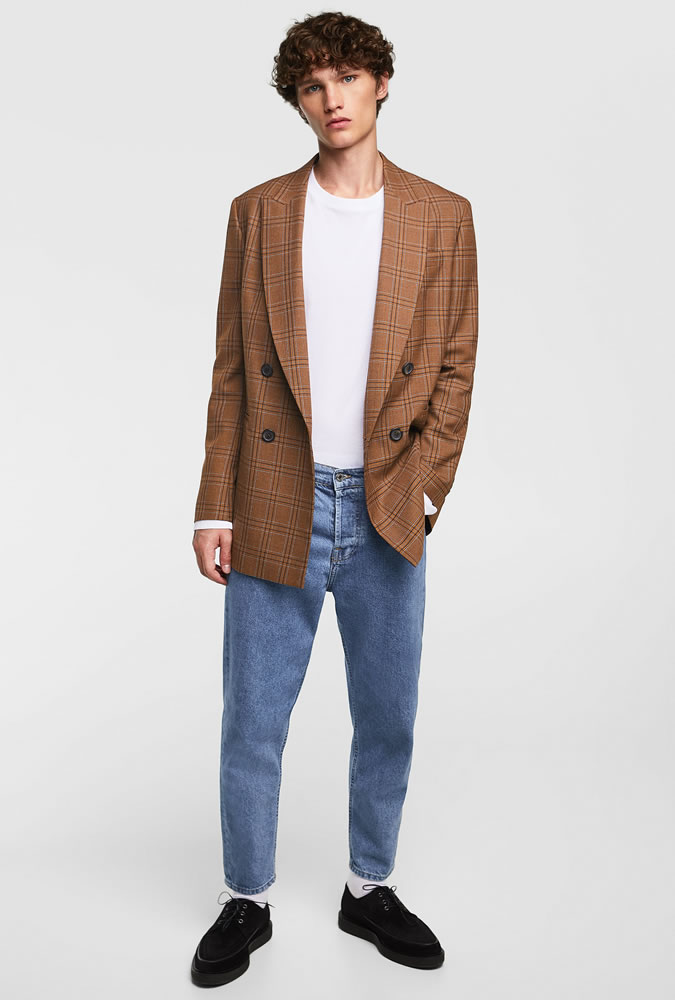 Zara
Retro is in, there's no doubt about that. But with multiple eras currently making waves in menswear, we can actively reference and mix decades for advanced style moves. Picture Richard Gere in American Gigolo as he leans nonchalantly against a wall, oozing Armani-clad Hollywood sex appeal as his double-breasted jacket casually hangs open over a crumpled shirt, paired with high-waisted casual trousers.
The look is so effortless and incredibly easy to emulate today. "There's a recent trend in wearing double-breasted blazers, unbuttoned, for a more casual take on this formal item," says Ho. "Worn with jeans, this would be a very contemporary way to dress smart casual."
With this in mind, take some nineties-style, light-wash jeans with a mid-rise and wear higher than you normally would for a more fashion-forward look. Then the blazer of choice would be double-breasted worn open over a simple T-shirt. For optimal eighties appeal, choose a check blazer in grey or blue tones, or for a more seventies feel, opt for brown tones. As for shoes, you could go full rockabilly 50s with some creepers which look great with darker denim and white socks, or Nike Air Force Ones for a more contemporary, casual vibe.
Key Products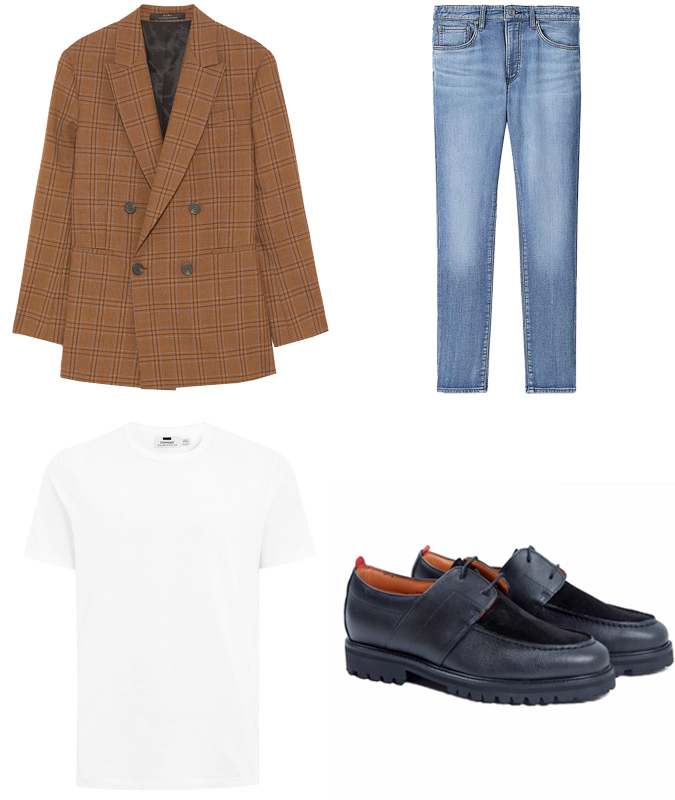 Good Workwear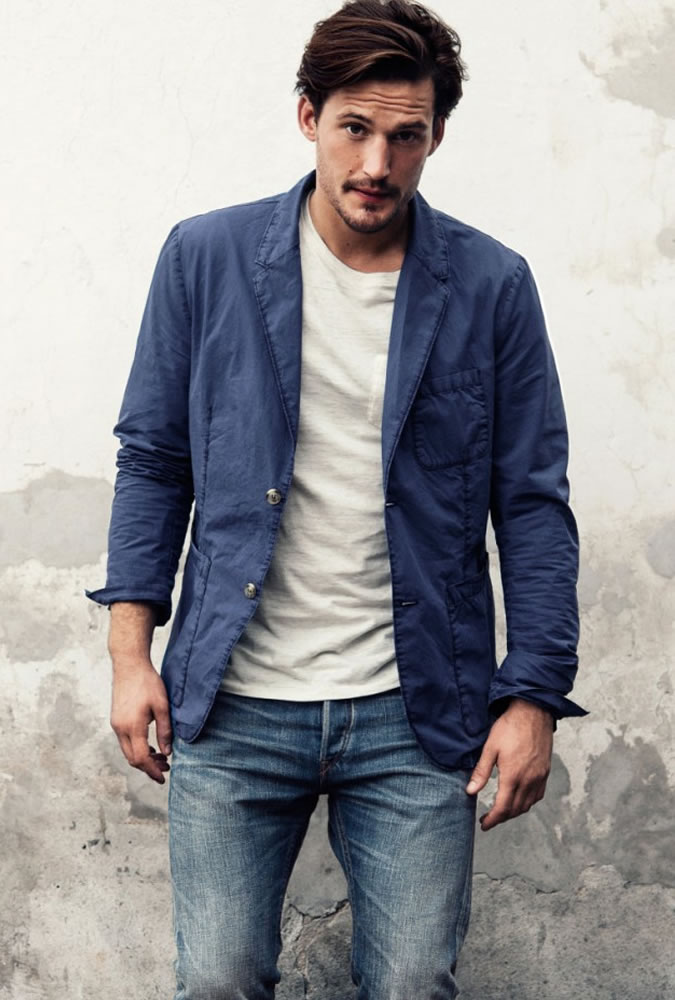 H&M
The faded-cotton workwear look thankfully hasn't, um, faded. And we can't vouch for this style of jacket enough. They're unlined, unstructured and uncomplicated. It's practically a shirt that you wear over a tee, throw on with jeans and go anywhere in.
Profoundly flattering on all shapes, they allow for more muscular physiques and are more than just a separated suit jacket. They'll fit well under a coat too once the temperatures drop and will go with most styles of jeans. A faded blue or green will provide the best range of options, and worn over a T-shirt – plain or striped for a look reminiscent of summer – it works as a great weekday or weekend look.
As the jacket is casual and faded, wear the sleeve cuffs rolled back and pair with faded jeans – straight leg Levi's 501s perhaps – with some well-worn work boots.
Key Products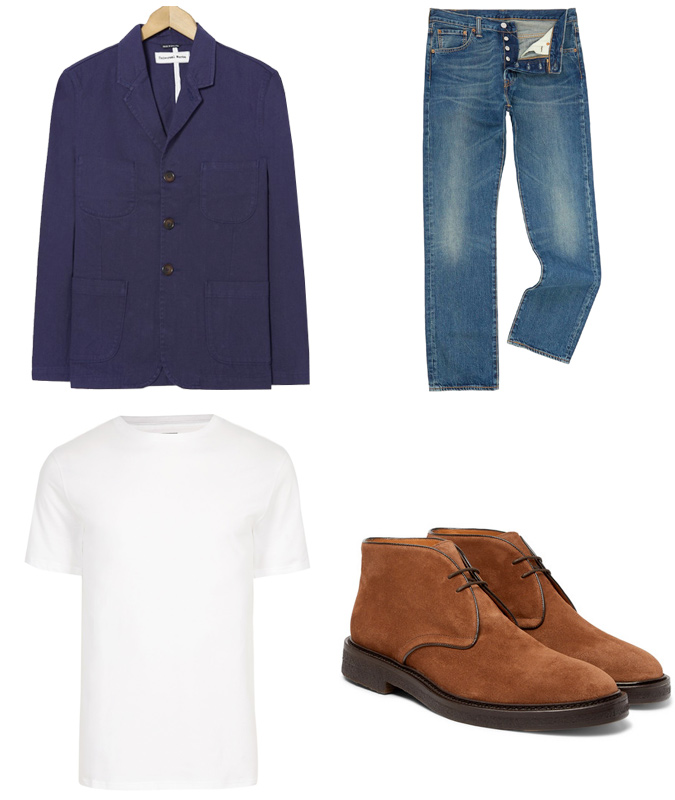 The New Smart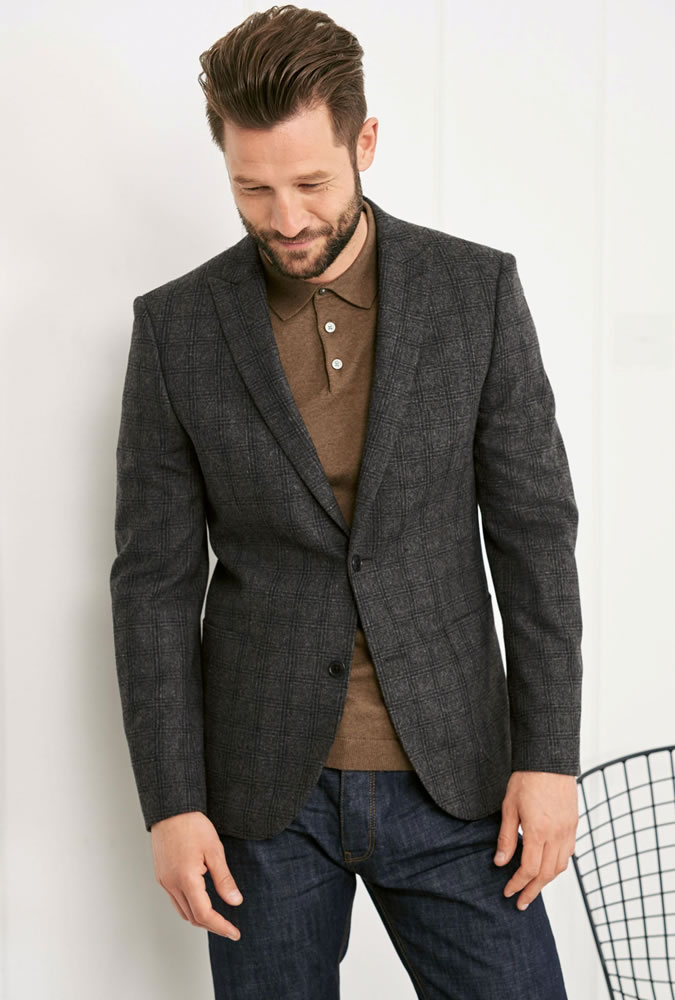 Next
It's Friday morning, you've got a big meeting with a client, which means wearing sweats won't cut it unless the name on your bank account reads "Zuckerburg". The challenge is you want to impart an air of authority, convince others of your knowledge and expertise but also look like you're totally in touch with today's gig economy and casual workwear thing. It's a fine line, but utterly achievable.
Take one pair of darker denim trousers, add a soft caramel or autumn-toned knitted polo and finish with a slightly heavier-weighted blazer with a fine check, slim cut (slightly more structured for an elevated look) also in more subdued colours; et voila, you'll convey this delicious combination in one fell fashion swoop.
Key Products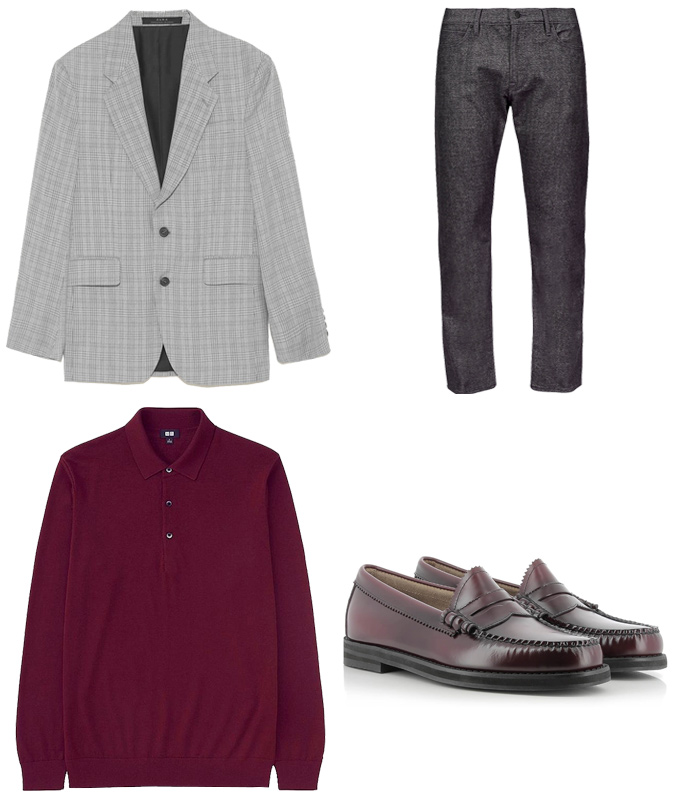 Autumn Weekender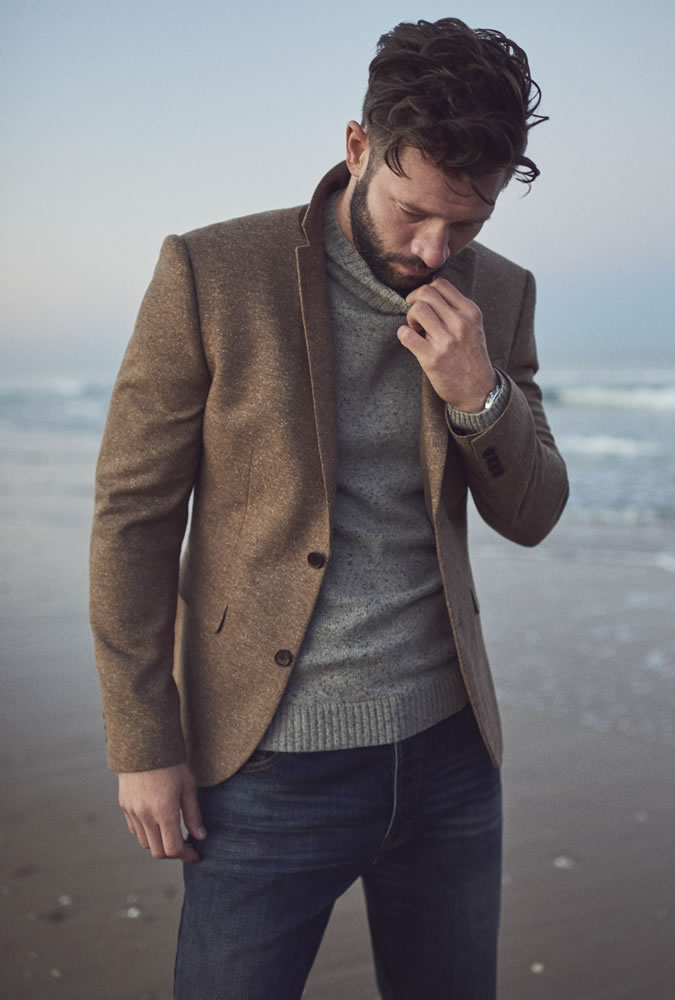 Next
One of the great things about experimenting with blazers in alternative fabrics is that you can wear them as you might wear a light camel or grey top coat. A wool or flannel jacket worn over knitwear will be warm enough for the change in seasons and versatile enough to take you through a range of dress codes.
Better still is a chunky roll-neck, which wears well under a similar natural fibre blazer, some dark, understated jeans with natural fade, and walking boots or all-weather winter Vans in brown suede. Add in a wool or cashmere scarf with a subtle pattern and you have a great autumn look without the need for a heavier coat.
And that's it: Jeremy style – Clarkson and Corbyn – fully averted. And for one last take home, please don't ever wear an untucked shirt with a blazer, especially over jeans. This look is reserved for country and western crooners only. Howdie.
Key Products