Obviously, we're no architects. However, we'd imagine a question that comes up fairly early on when planning a new building is: "How high can we make this thing?" It's a query that has cropped up in other areas of design too and the world of sneaker innovation is no exception.
"Originally high-tops were all about providing athletes with more ankle support," explains Tiffany Beers, a sneaker expert, YouTuber and former Nike senior innovator, who spent 13 years designing for the Swoosh. "Today, they're another perfect example of how an athlete performance benefit can become a look and a fashion statement in its own right."
For Beers, the high-top silhouette represents the greatest design in sports footwear. And she's not alone. Jamie Dowling is the manager of 5 Pointz in Bristol, a sneaker and streetwear shop where he witnesses firsthand how popular this ankle-hugging style of footwear is – and it can all be traced back to one specific shoe.
"In my opinion, the Converse Chuck Taylor All Star started this culture. That shoe eventually went on to transcend sports, style, stereotypes, background, race and all aspects of society. It's something I don't feel any shoe has done since to the same level."
Today, many sneakerheads champion high-tops due to the fresh look they can bring to an outfit. "From a stylistic perspective, I think it all depends on the outfit that's being worn," says Dowling. "I like to wear a high top sneaker with maybe shorts and long socks. Or nice denim with the bottom of the cuff sat on the top of the sneaker to showcase it."
Still, the way in which you style your high-tops will depend largely on what style they are. Take your pick from our edit of the best designs you can buy today.
Converse Chuck Taylor All-Star
Look down at your feet. If you're not already wearing a pair of Converse All Stars, chances are the trainers you are sporting wouldn't have existed without them. This simple canvas basketball shoe laid the foundations for a multi-billion dollar sports footwear industry and set the benchmark for everything that was to come after it. The basic design of the shoe has remained almost completely unchanged in over a century, which is crazy, but also the true mark of an icon.
Buy Now: £75.00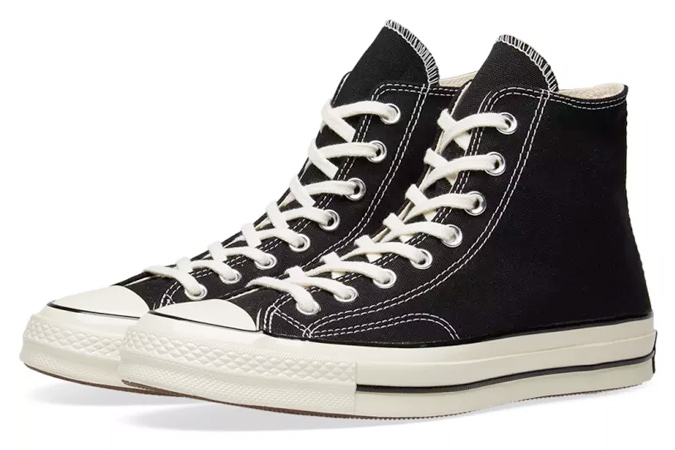 Nike Air Force 1
"Air in a box," read Nike's advertising campaign for the Air Force 1 back in 1982. In fact, there was much more than just air in the box, there was also a pair of shoes. And bloody good ones at that. This crisp white sneaker may look pretty vanilla compared to today's basketball footwear but at the time it represented a major turning point. That's because the Air Force 1 was the first basketball shoe to feature an air cushioning system in the heel. Something which changed the game forever, on court and off.
Buy Now: £79.95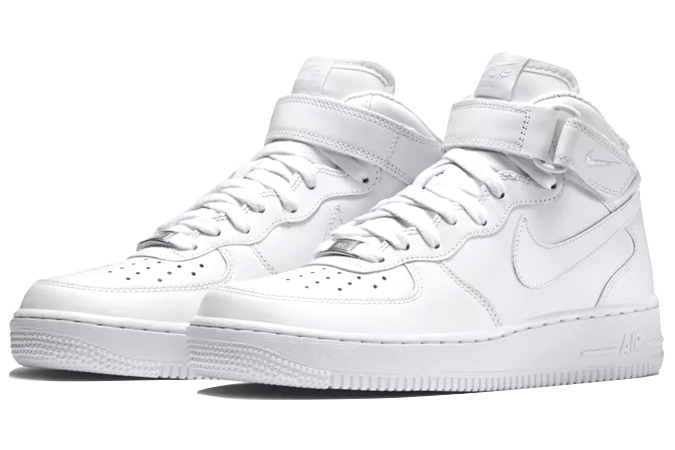 Reebok Pump
When you think of '90s footwear, it's impossible not to think of the Reebok Pump. The Pump was so called because it featured a series of inbuilt air pockets that could be inflated and deflated using a mechanism in the tongue in order to achieve a custom fit. It was an instant success and although Nike released something similar the same year, Reebok's offering became the favourite. At $170 it was wildly expensive for the time, but that's just the price you have to pay for owning a piece of footwear history.
Buy Now: £86.99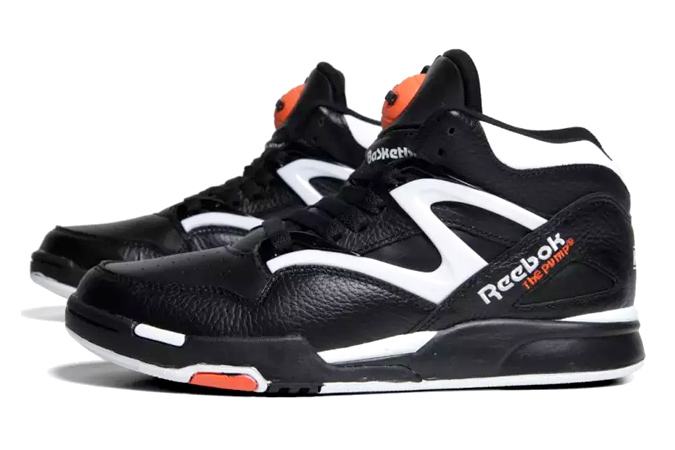 Nike Air Jordan 1
It's difficult to remember a time before the Jordan brand, but prior to this Nike sponsorship all Michael Jordan would play in were Converse All Stars. With that in mind, Nike got to work creating a low-profile basketball shoe that sat close to the ground, resulting in the Air Jordan 1. Although Jordan didn't think much of it at first, it quickly grew on him, becoming his trademark.
In the years that followed, the Jordan brand became the most important name in sneaker culture and the Air Jordan 1 was the model that started it all. There have been a dizzying number of colourways but the core design looks good with almost any trouser style or pair of shorts.
Buy Now: £129.00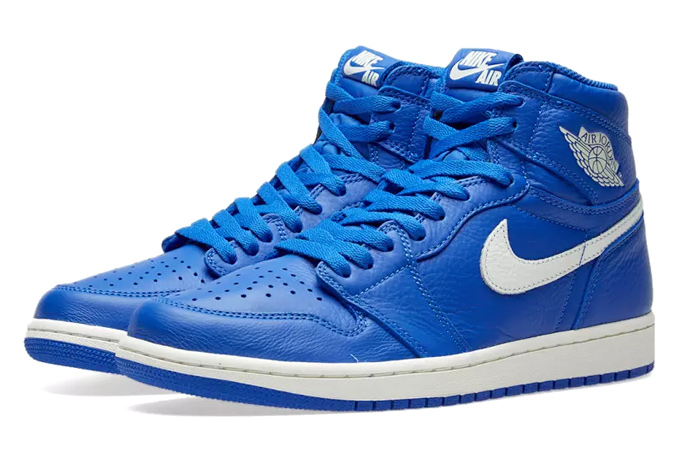 Vans Sk8 Hi
Vans was already a big name in the skateboarding community when the Sk8 Hi launched in 1978. The skaters of California and beyond had adopted the brand's Authentic and Era shoes as a fixture of their style but this new high-top option brought a fresh look to the streets. Skating in what was essentially a pair of boots may not seem like the most practical way of doing things but this new ankle-height design gave riders more support and protected their lower legs from impact. Ever taken a skateboard to the shin? Not pleasant. Still, pop a pair of these bad boys on and you'll never have to find out.
Buy Now: £59.00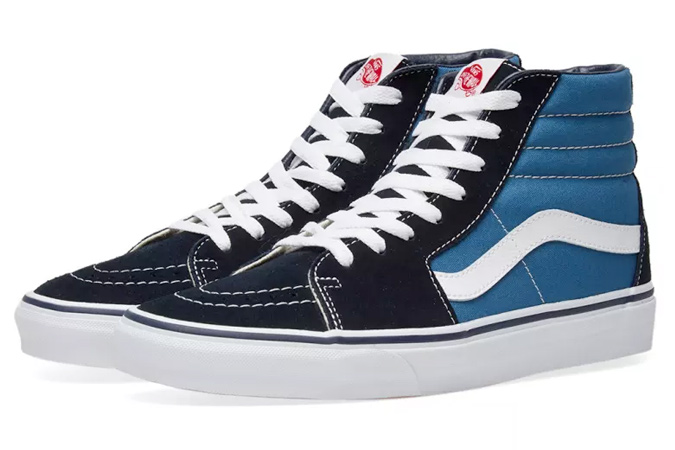 Visvim FBT
Visvim's FBT is probably best described as the Marmite of the sneaker world. You either get it and love everything about it, or you think it's a complete abomination. And a very pricey one at that. Regardless of what you think, it's difficult to argue that the FBT isn't a design classic. The moccasin upper and sporty Vibram sole combination has spurred countless imitations, all failing to match the allure of the original. The removeable fringe around the ankle is inspired by native american footwear that used it for an extra layer of warmth in adverse weather. However, at 700 quid a pop, we doubt anyone's wearing these in the rain.
Buy Now: £739.00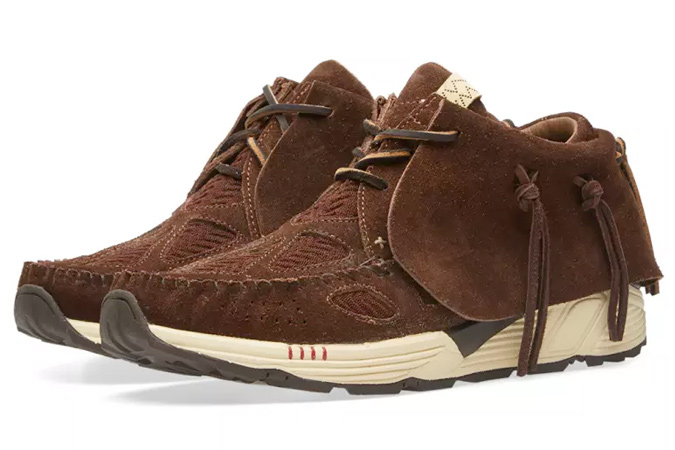 Reebok Freestyle
1982's Reebok Freestyle marked a major milestone in sports footwear. The high-top was the first athletic shoe designed specifically for women and even today no male version exists. With that in mind you may be wondering what it's doing in a roundup of the best sneakers on a men's style website. But despite it's target audience, the Freestyle was, and still is, hugely popular among men too. So, much so, in fact, that Mick Jagger even sported a pair in the video for Dancing in the Street with David Bowie. And the fun's not over. You can still grab a pair today. Well, as long as you're smaller than a 9.5, that is.
Buy Now: £69.95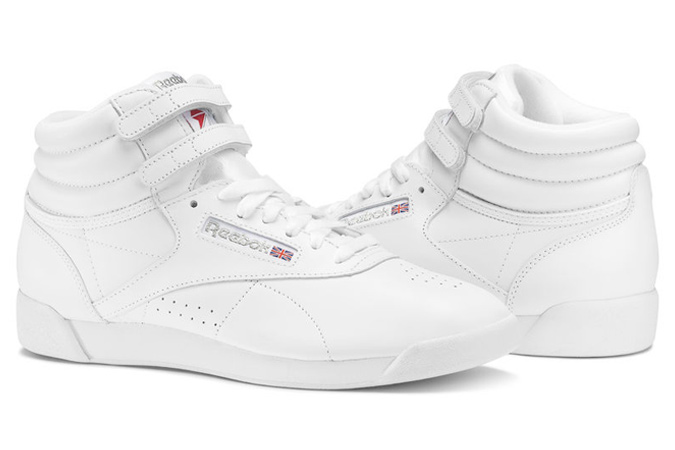 Rick Owens Geo Basket
Rick Owens's luxe-goth aesthetic may admittedly be a little bit much for your average guy to get on board with, but there's no denying his designs are iconic from a fashion perspective. Take, for example, the Geobasket sneaker. This Air Jordan 1-inspired shoe may not have gone down too well with Nike (the company accused him of copyright infringement and issued a cease and desist order) but with the world's fashionistos, it was a runaway success. With its chunky design and upturned toe, the Geobasket isn't the most functional basketball shoe on the market but let's face it, if you're in the market for a pair, you're probably not planning to use them on the court.
Buy Now: £725.00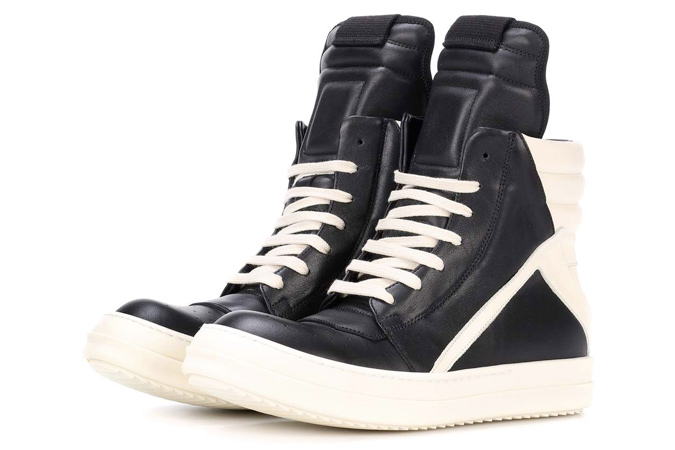 Balenciaga Speed Trainer
Oddly enough, the practise of stitching a sock onto a sole unit has become commonplace in the world of sneakers. Still, no brand has done it in such an outrageously expensive manner as Balenciaga. At prices well in excess of £500, the Speed Trainer isn't what anyone would describe as reasonably priced. Even so, that didn't stop it from becoming one of the most popular shoes of 2017 and an instant classic. It was the yin to the Triple S's yang, offering some respite from all the chunky trainer madness. Of course, that respite was just another type of madness. But hey, you've got to take what you can get in this climate.
Buy Now: £495.00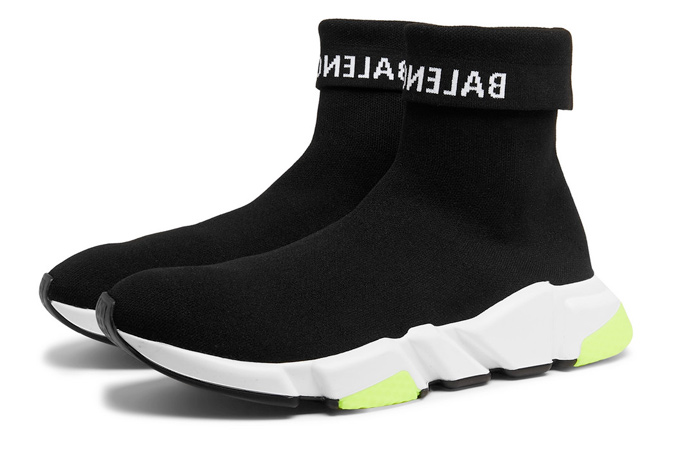 Common Projects Achilles Mid
The Common Projects Achilles Low is nothing short of a modern classic. It's sleek, smart, versatile and well built. In spite of all this, its low-profile design doesn't hold up particularly well during the winter months. That's where its high-top sibling comes into play. By adding an additional few inches to the collar, Common Projects has successfully created a version of its iconic model that can be worn throughout the greyer half of the year. Although we'd still advise you to employ a generous splash of leather protector.
Buy Now: £309.00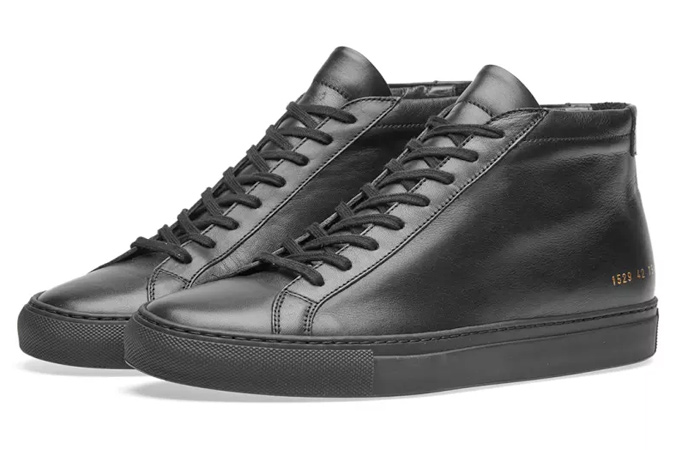 Clarks Trigenic
The Clarks Trigenic as a paradox of a shoe in that it manages to look like it's both from the future and a relic of the past. This is what happens when a heritage footwear brand starts to experiment with new construction techniques and technology. Think of it like a high-tech moccasin. Looks aside, the Trigenic is often praised for its cloud-like cushioning and next-level comfort. It's not the most handsome shoe out there – an acquired taste perhaps. But still, this forward-thinking design has proved immensely popular and looks well set to become a future classic.
Buy Now: £179.00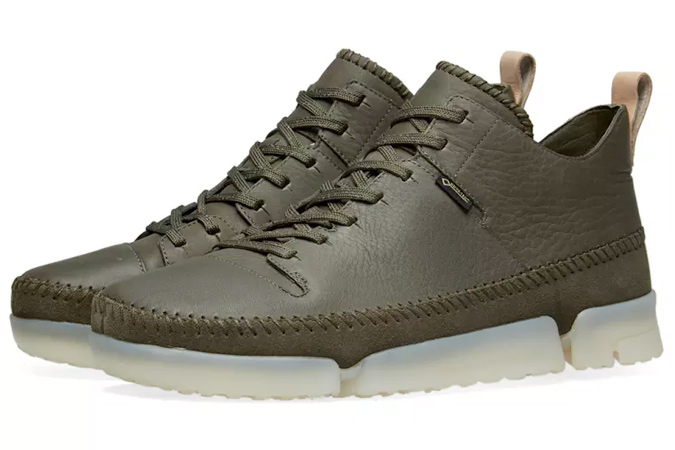 Novesta Star Dribble
The best designs are often the simplest ones and the Star Dribble from the Slovakian don of canvas footwear Novesta is a prime example. The model may not have the same historical clout as the likes of the All Star (although, what does?) but its minimalist styling and rugged build quality have made it a cult classic among menswear aficionados. But that's not to say Novesta is a fledgling brand. In fact, the label's roots can be traced back to the 1930s when it used to manufacture shoes for the nation's army. Today you're much more likely to see them being sported by style-savvy, urban Europeans, but the utilitarian styling and durability remain.
Buy Now: £69.00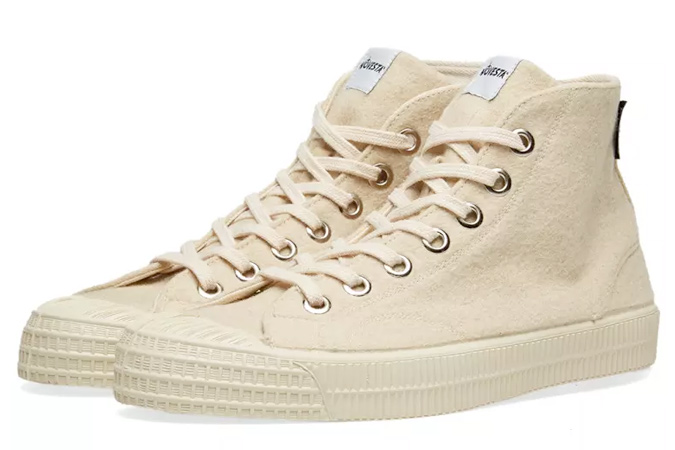 Adidas Forum Mid
Oregonian sportswear behemoth Nike more or less has the monopoly when it comes to high-top sneakers but that's not to say Adidas doesn't have a few tricks up its sleeve. The Forum Mid has long been the Three Stripes' definitive ankle grazer. This 1980s classic was the brand's response to basketball's surge in popularity and although it never achieved anything close to Jordan levels of hype, it was still a popular alternative. Key selling points included (and still do include) increased height and a velcro strap to keep the ankle locked into place.
Buy Now From: £59.40