Unless you're a male model posing shirtless on a sailing boat during a thunderstorm (for argument's sake, we're going to assume you're not), looking good during a downpour is no easy task.
However, getting a soaking from mother nature doesn't always have to send your style credentials drifting down the gutter and into the drain. With the right garments in your wardrobe and a little know-how, it is possible to use open heavens to your advantage.
So make like a well-dressed Poseidon and add these key wet-weather pieces to your wardrobe. then brush up on a few outfit-building tips to ensure you stay stylish and showerproof all season.
6 Key Rainwear Essentials
Technical Jacket
Staying dry needn't be technical. At least, not when you have a teched-out jacket at your disposal. The secret to using outerwear to deflect the elements, however, is in knowing what questions to ask yourself when shopping.
"How waterproof is it and can it breathe?" is a good starting point according to Andrew Todd, lead menswear designer at British brand Finisterre, who also suggests looking for the official unit used to measure water repellency. "20k hydrostatic head will provide a lot of protection again heavy showers," he says.
For more entry-level pieces, prioritise features such as sealed seams and elasticated cuffs, which help keep water out and heat in, as well as hardy fabrics like nylon-ripstop.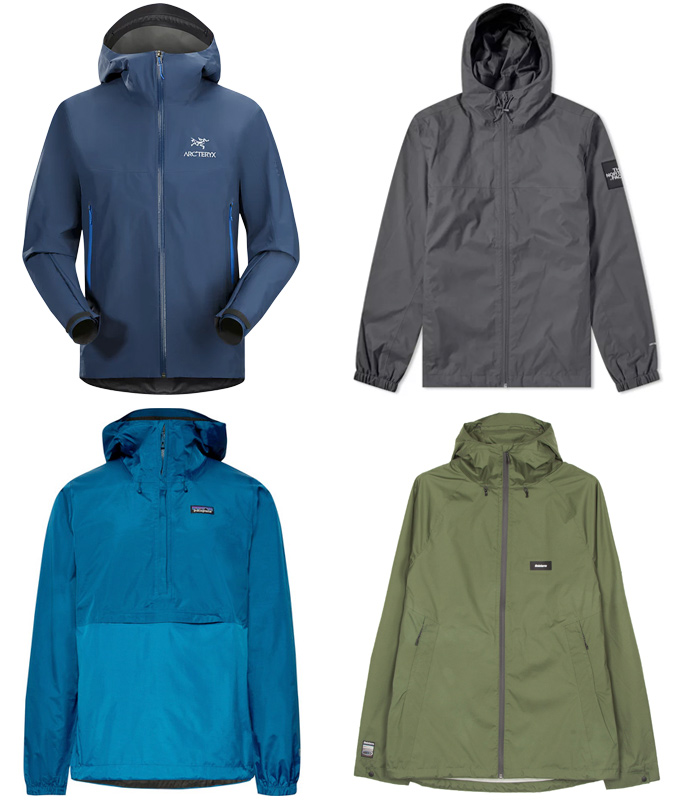 Boots
A pair of sturdy leather boots is to rainy days what butter is to toast: you can go without, but it won't be particularly pleasant. Of course, before you shell out, there are a few considerations to be made.
Ask any cobbler worth their polish and they'll tell you that materials are of the utmost importance. "Rubber soles work best as they don't absorb the water and don't slip like leather," explains Tim Little, owner and creative director of British footwear label Grenson. "Meanwhile, the upper leather should be oily or waxy so that the rain runs off.
As for what you wear them with, use smarter brogue and commando sole boots to add a touch of Tenzing to your two-piece, or opt for dressed down hiking or worker boots to add ballast to casual rigs.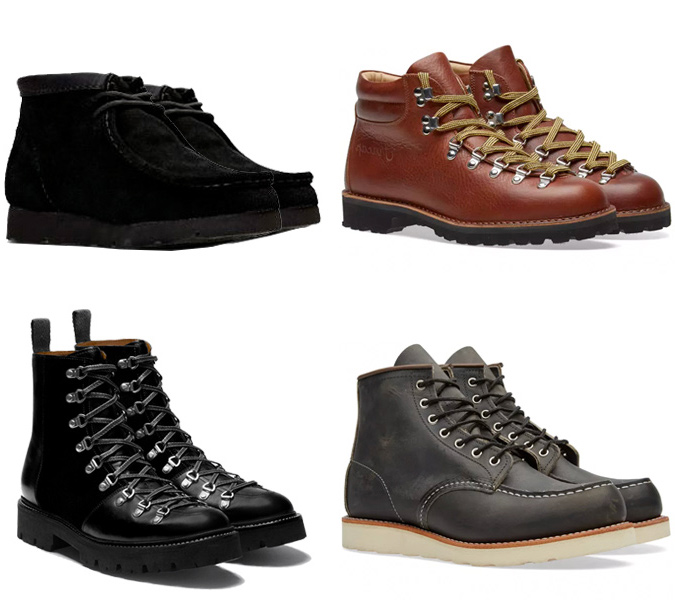 Mac
It's the return of the mac. Although, it never really went anywhere. That's because this classic piece of wet-weather attire is about as timeless as winter coats come.
"Macs have always been fashionable," explains celebrity stylist Harriet Byczok, "which is mainly down to designers reinventing the traditional with different styles every season."
The most redeeming feature of the long-length coat is that it can be worn come rain or shine, often cut from durable yet lightweight cotton-gabardine that provides a breathable, wind and waterproof coating to just about any outfit.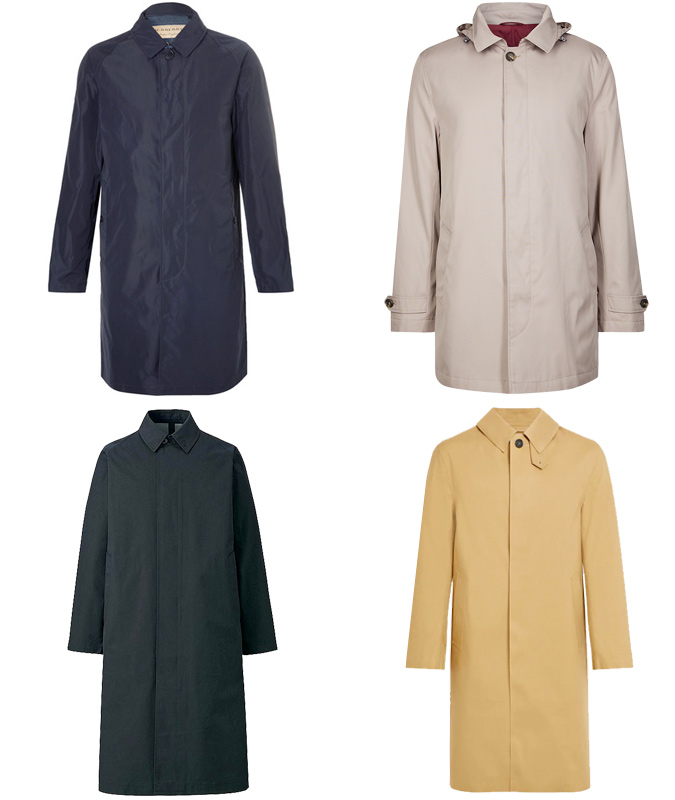 Umbrella
If waterproof outerwear is a bit too Norwegian fishing trawler for a four-day stint on the North Sea for your liking, revert to the OG shower shield: the umbrella.
A parachute-sized canopy designed for the golf course isn't going to cut the mustard, no matter how practical you think it is. Trust us, the people whose eyes you impale as you walk down the street will thank you for erring sleeker.
Instead, "choose an umbrella with your overall appearance in mind," says Sarah Gilfillan, owner of men's personal style consultancy Sartoria Lab. "Dress in casual streetwear? Then camouflage or a bold colour will work well. More of a suited city gent? A deep green tartan or Prince of Wales check will be subtle but stylish."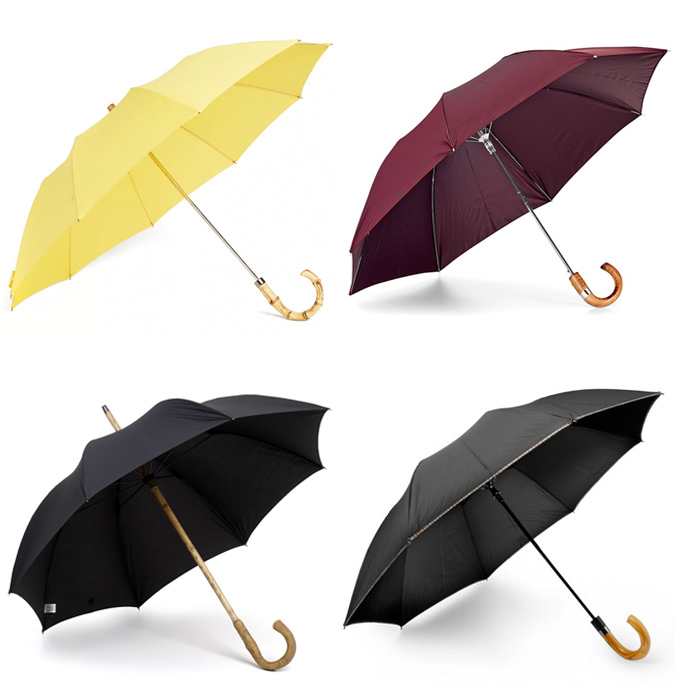 Weatherproof sneakers
Just because the heavens have opened, doesn't mean you have to retire your trainers. Simply make the switch to a pair that can hold their own in adverse conditions.
It goes without saying that certain materials (like ultra-absorbent canvas) should be avoided. "Suede and nubuck are obvious ones as they are harder to clean," says Little. "Still, even these aren't impossible – you just have to let them dry and then brush them with a suede or nubuck brush."
Wipe-clean leather and technical materials like waterproof Gore-Tex stand the most chance of survival in a tundra, while added height in the ankle department can also help keep the water out (and avoid trench foot – never a good look).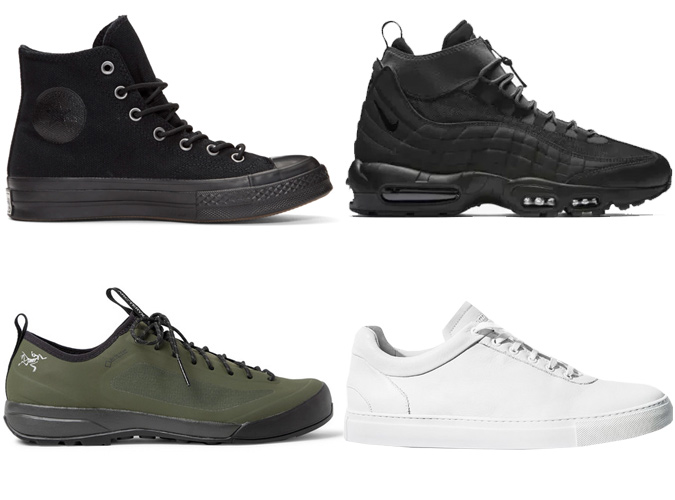 Minimalist Raincoat
At the opposite end of the spectrum to the technical jacket sits a piece of kit that is about as no-frills as it gets. Granted, the rubberised raincoat isn't much good for scaling mountains. However, all it ever claimed to be good at was keeping you dry, and for that, it can't be beaten.
"Pouring rain is always a possibility," says Byczok, "and a rubber coat is perfect for those 'will-it-wont-it' days. Lightweight, packable and a great way to combine function with style."
As well as pockets to keep your valuables dry, it's worth investing in a raincoat that has a hood, for obvious reason. "This will save you from lugging around an umbrella around while maximising its use."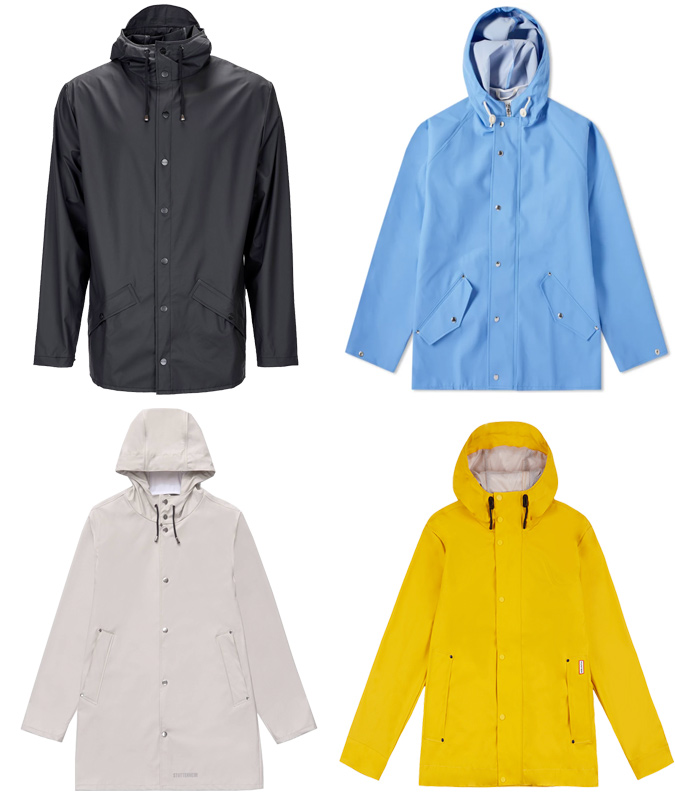 Four Go-To Wet Weather Outfits
Scandi Simplicity
Leaf through the inventory of any menswear retailer and it doesn't take long to see that it's the Scandi set that excels at rubberised raincoats, mainly because they fit perfectly into the region's preference for pared-back outfits.
To nail the look, which just so happens to be right on trend at the moment, aim to match up similar, but never identical, colours. A navy coat worn over a lighter blue shirt, for example, is the easiest way to deploy menswear's easiest shades. Or, for a lighter option, do the same thing using beige, brown and sand tones.
If subtlety isn't your thing, it's still possible to make a statement with a Scandi-inspired outfit. Start with a neutral base comprising a plain crewneck, jeans and sneakers, then throw on a brightly coloured raincoat to bring the look to life.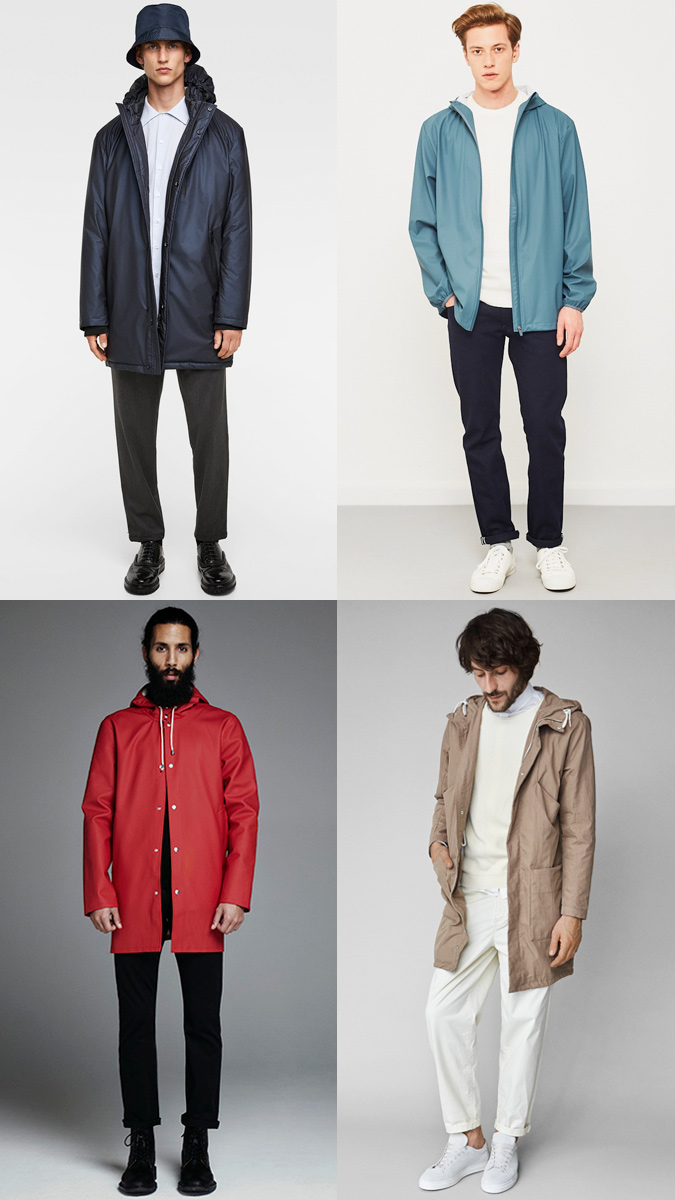 Outdoor Technical
Whether you're scaling the Matterhorn or just trying to avoid getting wet on the way to the boozer, equipping yourself with some high-performance outdoor apparel is never a bad move.
The downside of technical jackets, however, is that they tend to be either brightly coloured or overloaded with detail, which when added to can give off unwanted Antarctic explorer vibes.
To avoid this, simply opt to make sure nothing else in your outfit is competing for attention. Think dark trousers, trainers and a simple mid-layer such as a sweatshirt or hoodie underneath if the temperature calls for it.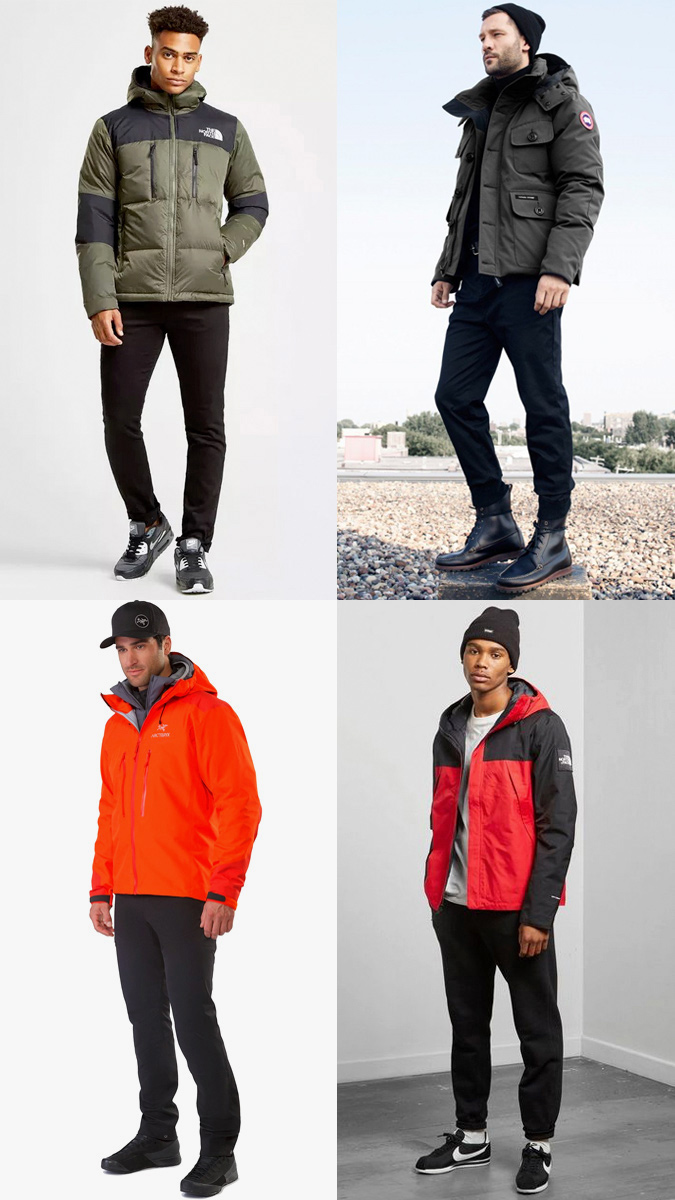 Office Rain Dodger
A rainy commute doesn't have to mean sprinting for the bus, holding a briefcase over your head and spending the rest of the day in a sodden suit. Play your cards right, and you can stride in bone dry and smug.
A mac or trench coat is the obvious choice for smarter outfits as they offer all the structure of a wool overcoat without feeling damp (wool, conversely, can absorb up to 20 per cent its own weight of the wet stuff).
The classic mac comes in a light beige shade, which still looks good over everything from suits to denim jackets, but for a more muted version try darker hues like navy or black.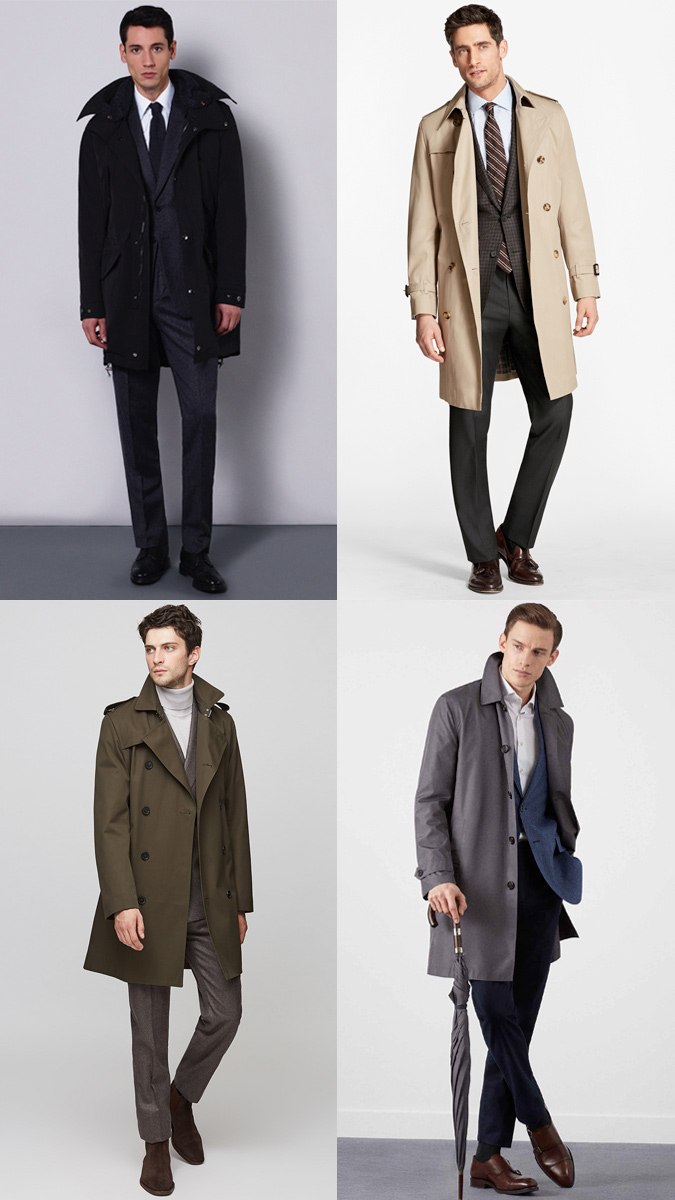 Weatherproof Streetwear
Streetwear, as the name suggests, was born on the streets. The only thing about the streets is, they tend to get a bit moist when it rains, so the pieces that make it up need to be ready for anything.
Garments like windbreakers and puffer jackets are perfect for staving off the elements, so it's well worth incorporating a few of them into your rotation.
A statement jacket is the shortcut to building a fire 'fit that no shower can put out, be it colour-blocked or covered in camo. To this, add a pair of cargo trousers or wide-leg jeans or chinos, then foot with chunky sneakers and accessorise with the usual suspects including a cross-body bag.