The parka is one of style's stalwarts. Although it's usually the wool overcoat that's seen as the definitive winter style classic, the parka comes up trumps for versatility – what other top layer has been taken up by Inuits battling Arctic breezes, soldiers in the trenches and mods keen on protecting their suits from moped dirt?
Originally made from caribou or seal skin, the parka's been through many guises since its first outing in the freezing Arctic: cotton-sateen blends to protect the US army, and more recently tailored takes made from cashmere blends (aprés-ski wear that's almost – almost – too plush to wear outdoors).
Today, the options are endless – choose from unlined lightweight designs that keep the rain at bay while boosting warmth or traditional fleece-lined styles that act like a form-fitting furnace. Still stuck on which winter coat to invest in this year? Your search may be over.
What Is A Parka?
Few pieces of clothing have undergone such a thorough transformation as the parka. This age-old outerwear staple can be loosely defined as a long, hooded coat designed to keep the rain (and the cold) out, yet it's available in a few key forms. And, like many of the most popular garments of today, the parka rose to its 21st century prominence through extensive use in the military, most notably in the American armed forces.
Facing severely cold Korean winters, the US Army invented the now renowned M-1947 in yep, you guessed it, 1947. Since then there's been a few updates – most notably the famed fishtail M-51 which was adopted by the mods of the 1960s.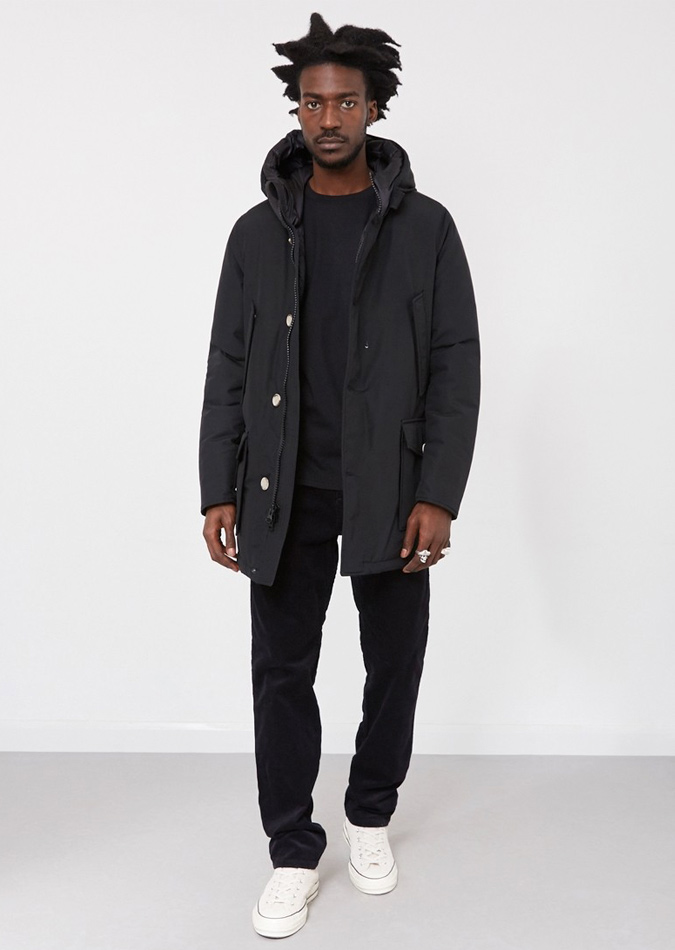 The Idle Man
While the parka has never really fallen from favour since the mod era, like other classic menswear items its enduring appeal can be attributed to its function rather than its form. It was favoured by the military for its good rain coverage and unrivalled warmth, and by the mods for exactly the same reason. Who doesn't want to stay dry, whether you're fighting in wars or through city traffic?
The Parka in Fashion
The parka hasn't had the easiest time of breaking into the world of luxury fashion, and it's not all Liam Gallagher's fault. Its relatively lowly status on the scale of stylish outerwear wasn't helped by menswear's focus on refined, tailored pieces over the past decade or so. But now, with the rise of streetwear, nineties fashion and oversized silhouettes, this old faithful is firmly back in the limelight.
It remains a style of coat that works for just a select few brands and people, though. Not every single label under the sun is repping them – but those that have chosen to feature a parka are arguably leading the new direction that menswear is taking.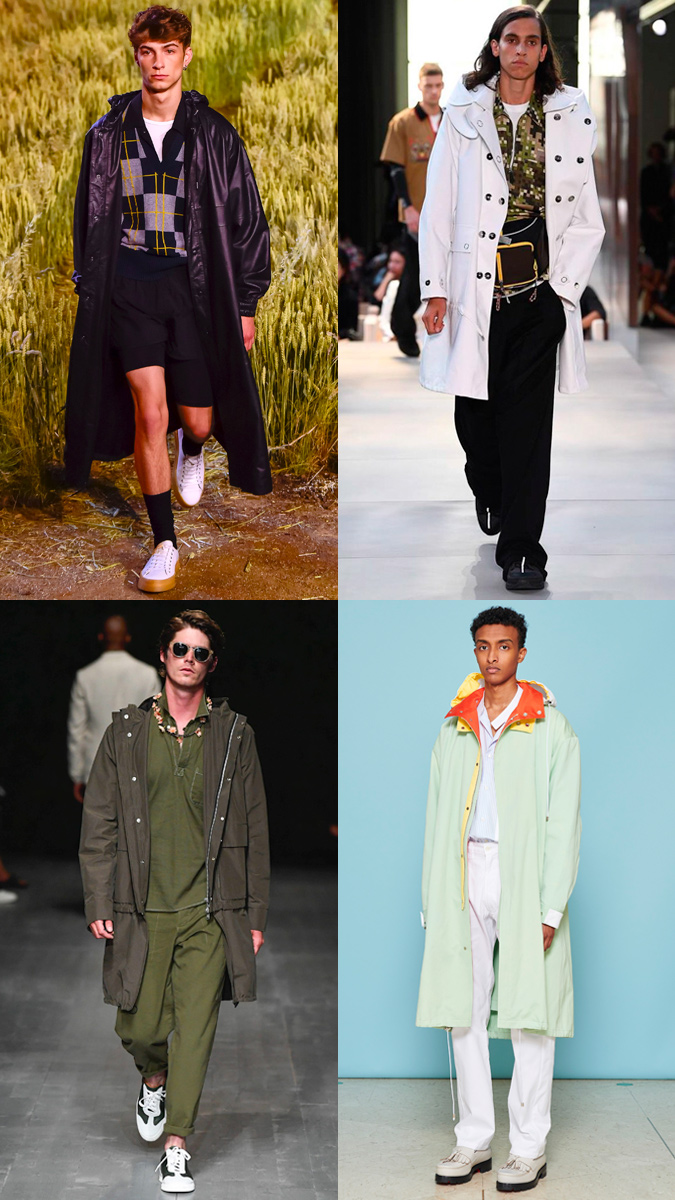 For the most recent shows the favoured style was lightweight and oversized, and layered over the top of both sportswear and more tailored outfits. French brand Ami debuted a cape-like black parka; Riccardo Tisci's new look for Burberry included a technical, multi-buttoned white parka with a drawstring waist; Oliver Spencer went for a military-inspired olive drab number with large flapped pockets; and E. Tautz chose colour, opting for a 3/4 length parka thrown over wide-legged trousers and a granddad collar shirt.
These four brands appeal to vastly different audiences, so it's interesting they all produced similar parka jackets – a sign of its popularity to come, perhaps, and certainly, if nothing else, a signifier of the jacket's versatility and ability to be worn in a range of different looks.
Parka Coat Variations
M-51 'Fishtail'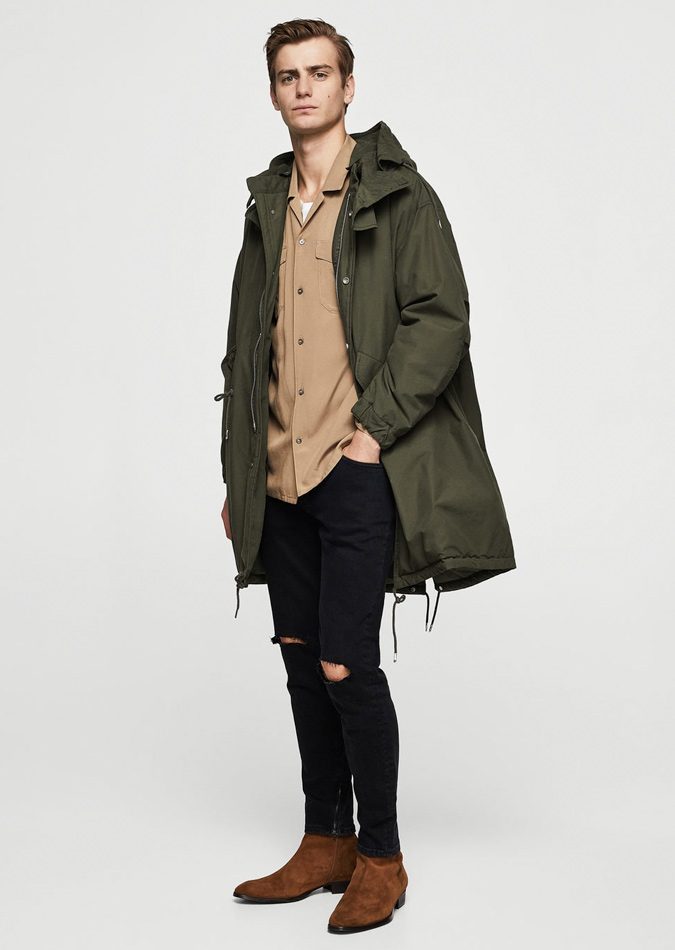 Zara
The original fishtail parka. Originally crafted from wind-resistant olive drab-coloured cotton or nylon, they featured two large front pockets, an upper sleeve patch for a box of cigarettes and a long skirt (or fishtail) that you could sit on. And finally, a removable wool-pile liner (attached beneath) for added warmth.
As with so many menswear staples, the parka became a civilian hit just a number of years after it first appeared on the battlefield. From the 1960s onwards, it was synonymous with British mod culture – arguably because its fishtail kept your backside dry on a Vespa.
Sticklers for authenticity will no doubt refuse to deviate from the olive original, but rather than heading to a military surplus store and risking a sub-par quality purchase, it's worth looking to a number of luxury brands repping different styles in the same or similar hues.
Arctic Parka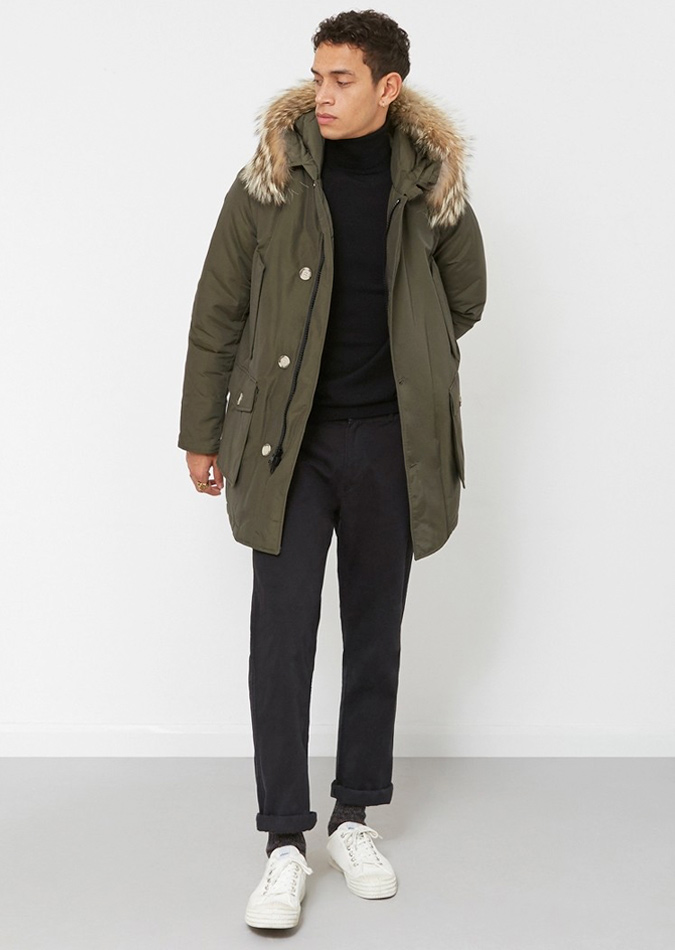 The Idle Man
This is the warm one, and although they can vary subtly in design, all arctic-style parkas can trace their roots back to the U.S. Air Force issued N-3B parka, which was created for soldiers stationed in extremely cold locales. Also known as the 'snorkel' parka, this design was pile-lined for warmth and featured a fur hood that left only a small opening when zipped up, hence the name.
Brands such as Canada Goose and Woolrich have made this design their signature – there's no coat more desirable in cold weather. Due to their impenetrable nylon-blend fabrics and insulating down or wool lining, some modern day coats are capable of keeping the wearer warm at up to -40-degree weather, so remember to take it off on public transport.
Due to their chunky silhouettes and weather-beating design, arctic parkas wear well with similarly robust items – think rubber-soled boots, heavyweight denim and thick knitwear. It won't perform so well in formal conditions, but when the temperature dramatically drops, who really cares?
Tailored Parka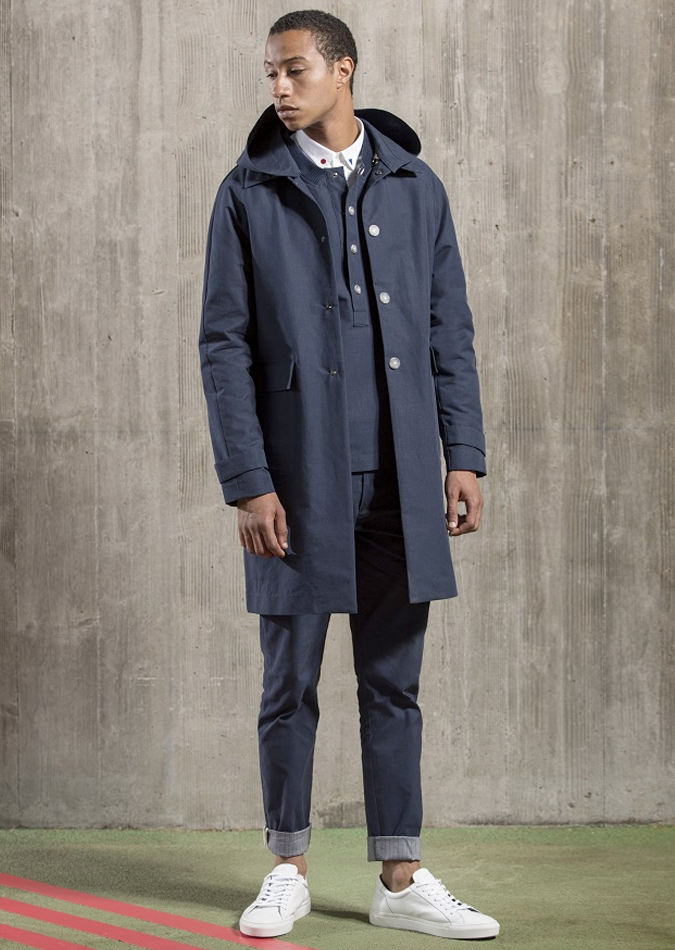 Commune de Paris
Essentially a spin-off of the M-51, tailored parkas take on a more minimal approach to design, meaning they pair well with smarter attire and can be the perfect finishing layer over a suit. Silhouettes will be slimmed down, extraneous details removed and colours will often be muted to allow for greater versatility.
A perfect stand-in for the classic rain mac, a tailored parka is an ideal everyday coat come winter, especially if it's lined. They often come in more luxurious fabrics – think merino wool or cashmere blends that up the formal ante ever so slightly. Try wearing as your daily office coat over a suit – a grey wool parka over a navy two-piece suit is a good combination – or on the weekend over selvedge denim and a long-sleeved knitted polo.
The Best Brands For Parka Jackets
Canada Goose
Having supplied the Canadian military and police forces with cold weather gear for some years, Canada Goose is a reliable source of some of the warmest coats around. The brand's foray into fashion has been equally successful, with long running collaborations with Drake's label October's Very Own solidifying its street style appeal.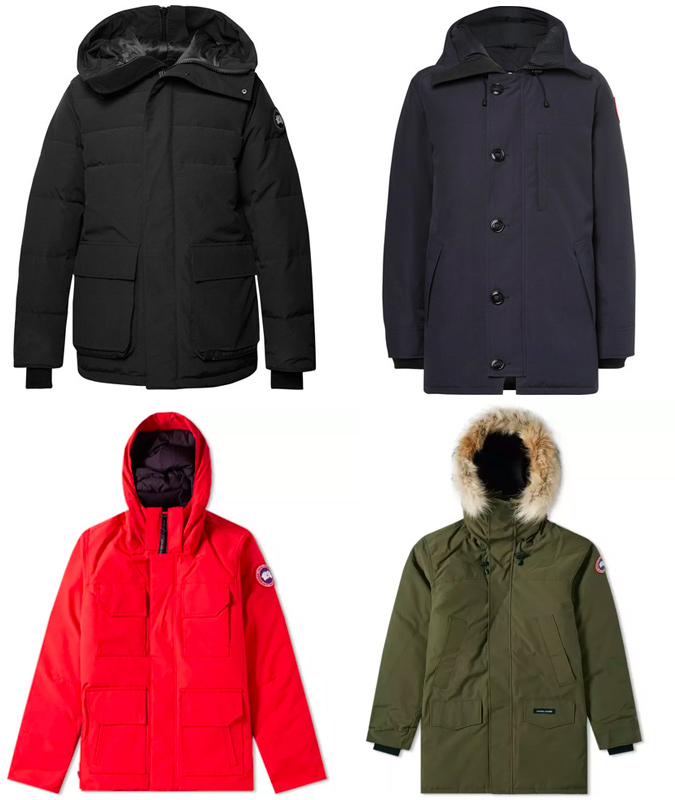 Woolrich
For some of the best technical parkas (that are equally stylish), Woolrich is the place to go. The American brand makes use of the best fabrics in Italy for its coats – Loro Piana's waterproof Storm System makes multiple appearances – and the classic designs on offer are hard to beat.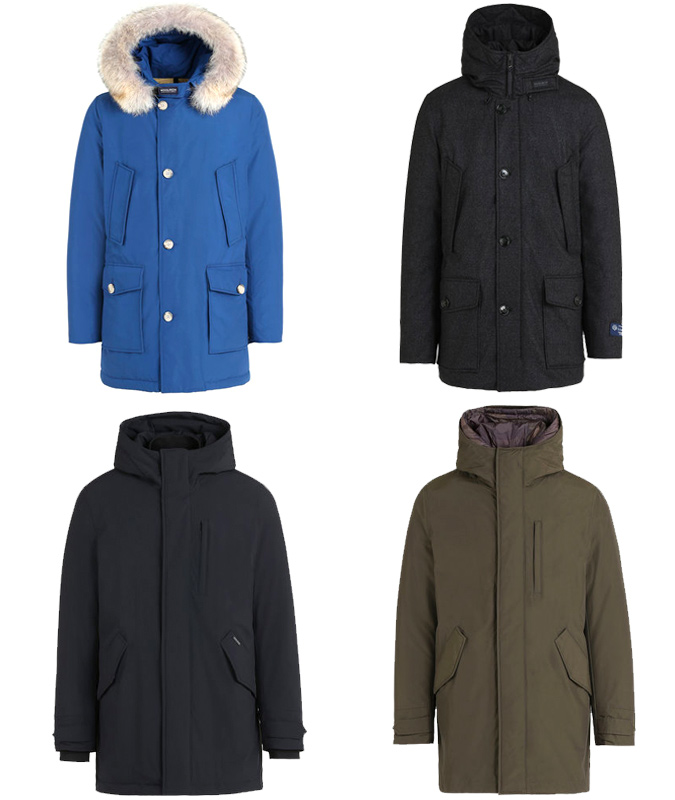 Uniqlo
Whatever item of clothing you're after, you can be sure Uniqlo has you covered. This is no different when it comes to parkas – the high street giant produces a range of styles from padded artic jackets through to classic olive drab fishtail parkas with its Blocktech (waterproof, windproof) fabrics, and at great value for money too.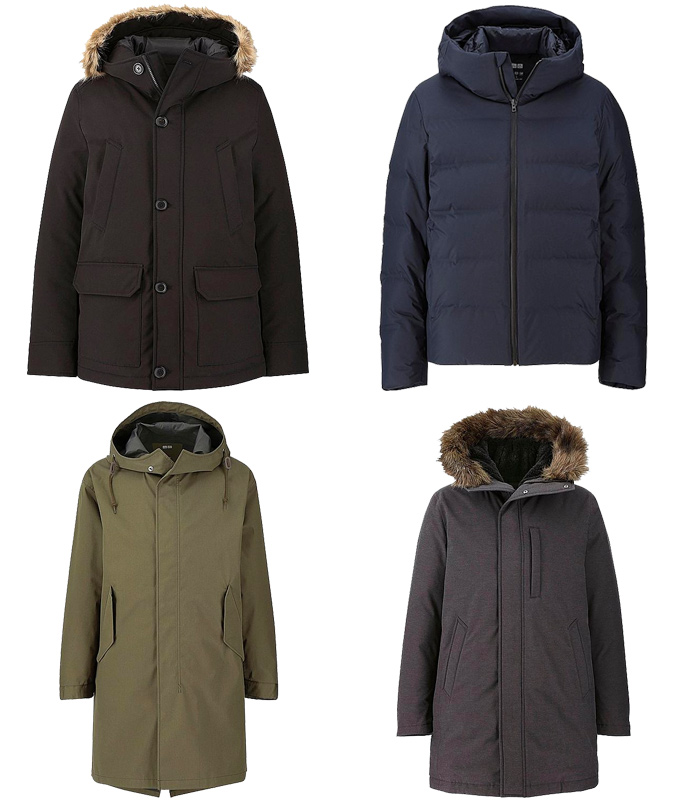 Arc'teryx
Is it any surprise that another of the world's best outdoor clothing brands hails from Canada? Arc'teryx specialises in highly technical outerwear and mountain gear, with its parkas proving especially useful for those that want to stay dry and warm in the harshest of conditions. Or the morning commute.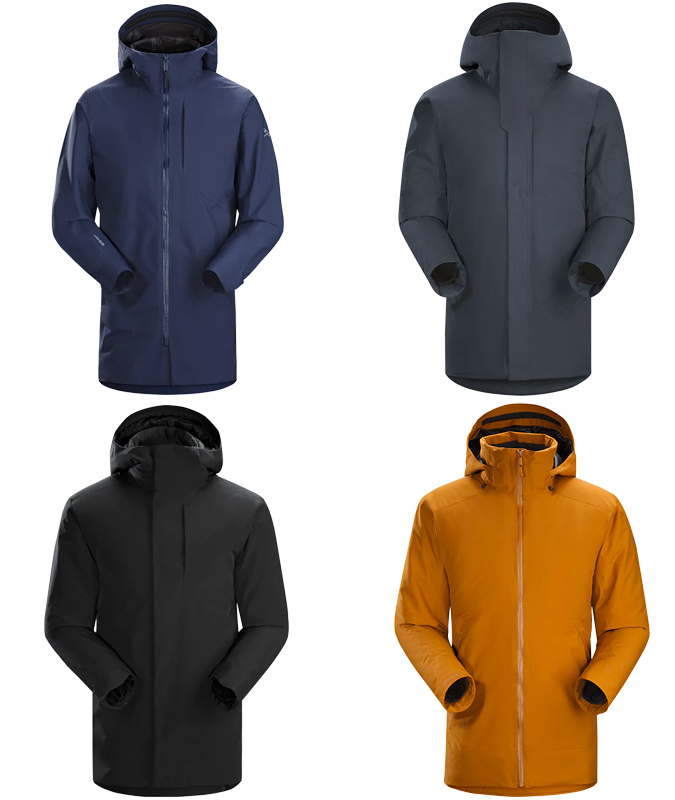 K-Way
The classic French rainwear brand has seen a resurgence of late, highlighted by collaborations with Ami and Kappa. The brand's bog standard jackets are just as good though, and offer excellent rain protection at very reasonable prices.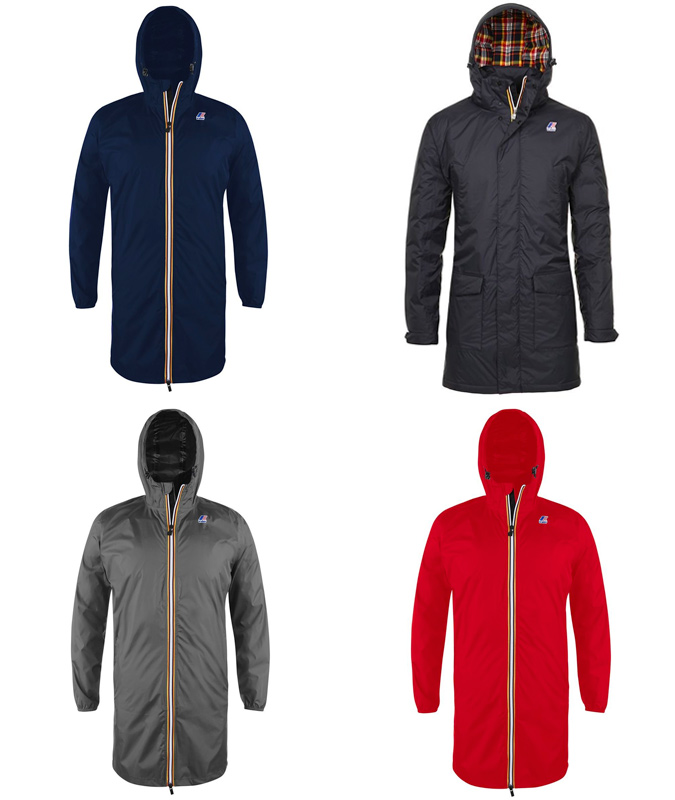 Arket
There are numerous high street offerings when it comes to outerwear, but Arket's definitely up there with the best. Its fishtail parka is made from a treated polyester blend and is part of its 2-in-1 series, meaning you can zip in an internal liner for added warmth, or simply keep it as a single outer layer for lightweight weather protection.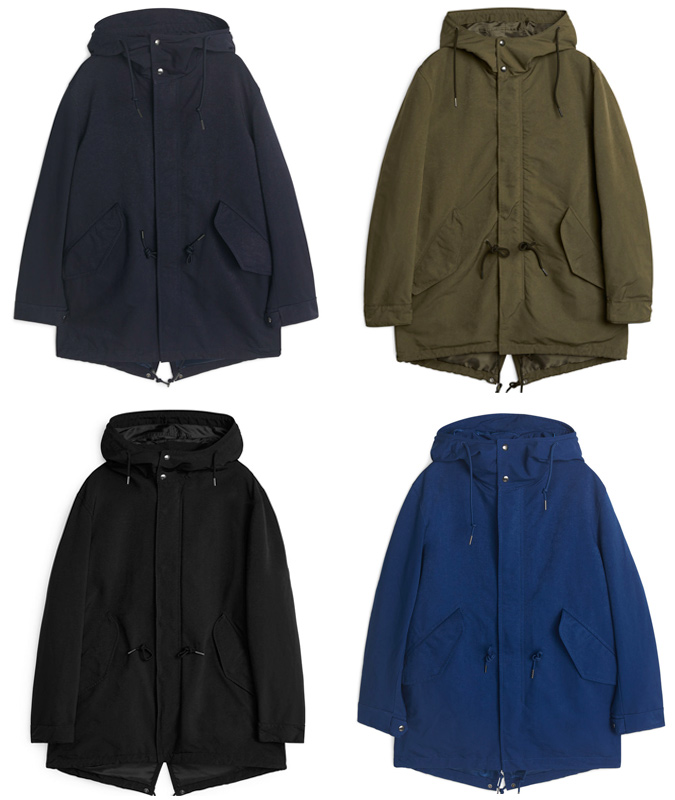 Marks & Spencer
Another option is the venerable M&S, with designs that are less fashion forward, but arguably even better value for money. Opt for an arctic style parka complete with the brand's Stormwear, or go for a simple hooded black design for some under the radar winter style.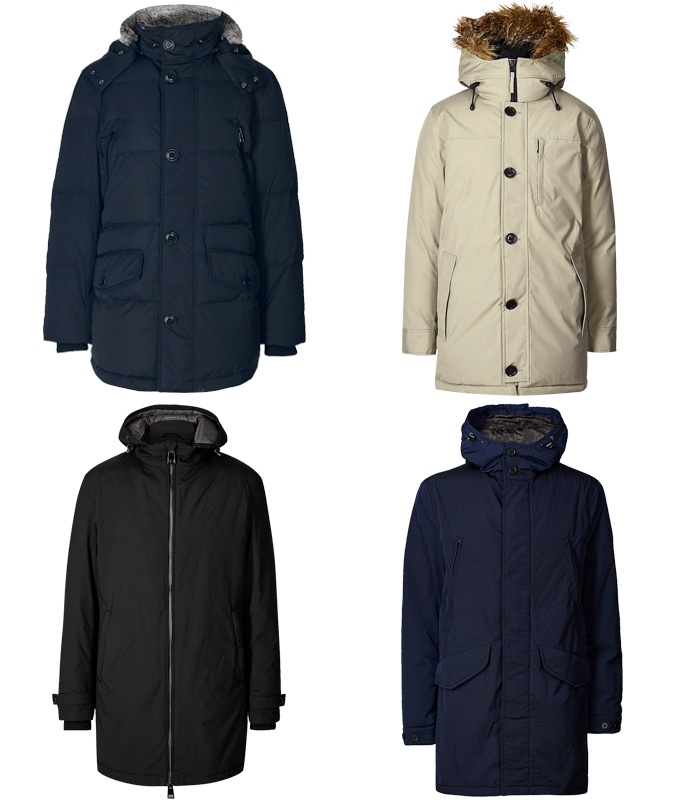 Pretty Green
Oasis frontman Liam Gallagher made a living wearing olive drab fishtail parkas on stage, so it's no surprise to see plenty available by his clothing label Pretty Green. Highlights include a multi pocketed, fur hooded parka in black, and a minimal hooded design that wouldn't look out of place on a 1960s mod.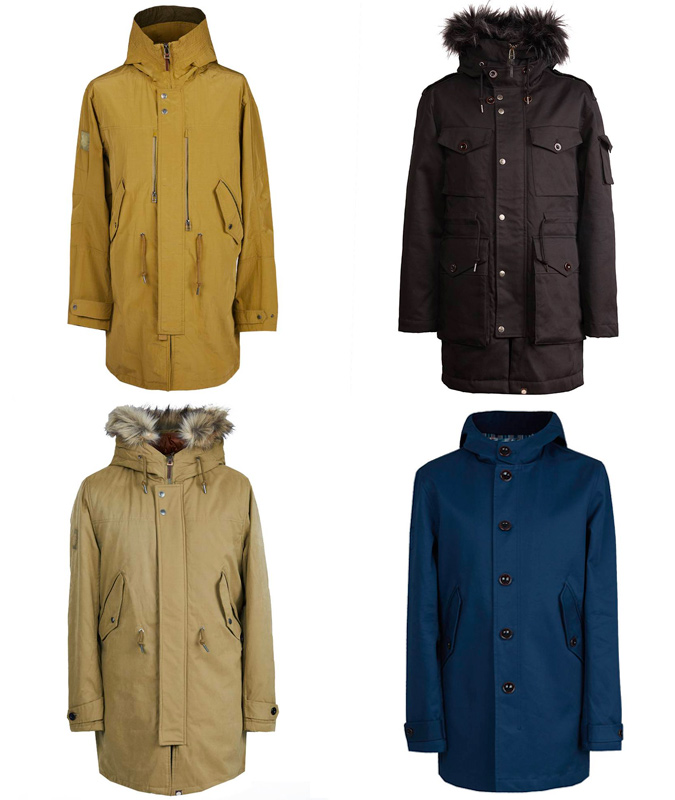 Superdry
Heavyweight parkas are Superdry's bread and butter, and for good reason. If you're after a do-anything, go-anywhere winter coat with subtle branding, you could do far worse than turn to the UK-based brand's aptly named Everest style.