There was a time when hair care for men involved little more than a quick suds-up with some Head & Shoulders, a furious towel dry and, on special occasions, a slather of Dax or Brylcreem – you know, if you were feeling fancy.
Now though, with freeze-hold gels, matte clays and volumising sprays crowding our bathroom cabinets, the idea that we ever enjoyed such a quaintly minimalist routine is laughable. Hilarious even, considering the fact that, according to Mintel, the men's hair care market is expected to reach £94m in value by 2020, and that's just the UK.
For better or worse (let's be honest: better, we all look much better), as men's interest in their appearance has grown, so too has the number of brands and products promising to make our locks look their best. Which is, great for the most part – who wouldn't want a wider selection of tools to get the job done? But it's also pretty overwhelming. Buy into every new miracle-touting men's hair product and your daily routine suddenly gets a) very expensive and b) so Patrick Bateman-esque in its time-consuming complexity that only he could justify following it fastidiously.
This is why we've compiled this comprehensive guide to men's hair products. From how to condition your hair to which combs are best, it's the myth-busting, info-packed primer your barnet will thank you for bookmarking.
How To Take Care Of Your Hair
Your hair is the one accessory you can't take off when it's not quite working, so it pays to make sure it always looks its best. And while that means you should deploy the right products, it's arguably more important to care for your hair through your lifestyle choices.
"One of the most important nutrients for hair health, and the production of strong and robust strands, is protein – the substance hair is made of," says Anabel Kingsley, trichologist at leading London hair clinic Philip Kingsley. "To ensure your hair is receiving an adequate supply of protein, add at least a palm-sized portion of protein – eggs, poultry, fish, beans, nuts and pulses are all good options – to your breakfast and lunch."
Unlike your personal trainer during cutting season, Kingsley also recommends incorporating a serving of complex carbohydrates into every meal, "as they provide energy to form hair cells, which are in fact the second-fastest growing cells the body produces." Drinking plenty of water is important too, since the scalp, "like any part of the skin, can become dry if your body is dehydrated", which can then lead to flakiness and an uncomfortably 'tight' feeling.
On the other hand, know the foods which are more foe than friend when it comes to hair health. "If you struggle with a scalp that is flaky and/or itchy, be aware that full-fat dairy products, as well as white wine, Champagne and very spicy or sugary foods can exacerbate the issue," says Kingsley. "Trigger foods aren't the same for everyone though, so I suggest working out what yours are by process of elimination."
Vitamins-wise, get to know ferritin, a stored iron, which Kingsley says helps produce hair cell protein. "Eat iron-rich foods at least twice a week; although the best sources are red meat such as steak and liver, an iron supplement can also help if you're iron- or ferritin-deficient."
You'll also want to take your hair for a walk. Regular exercise not only helps boost circulation to the hair and scalp (ensuring your hair gets all the nutrients it needs to thrive), but also reduces stress, which if left unchecked can lead to brittle hair or, in serious cases, hair loss. You may want to lose the cap, too: though damaging in excess, a little regular exposure to sunlight helps promote vitamin D production, which in turn helps sustain hair growth. A little, mind.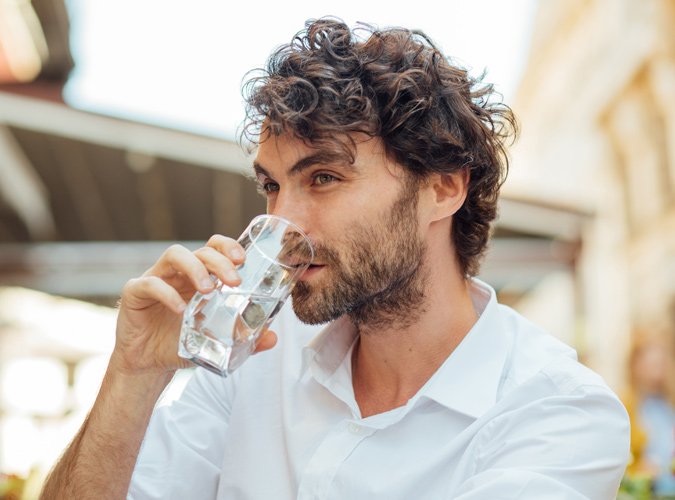 Shampoo
She might've lied about Santa – and the fact that you were never fat (just big-boned) – but your mother wasn't having you on when she stressed the importance of washing your hair with shampoo.
Shampooing is essential. Not only does the process of washing your hair with shampoo remove dirt and debris that collects on your scalp, but shampoo itself emulsifies excess sebum (an oil produced naturally by the skin) and product residue, leaving your hair fresh and free of gross microfauna.
What's not essential though, is shampooing your hair every day. In fact, 'pooing on the daily could actually strip your hair of some of the natural oil it needs to keep it healthy. So, unless you exercise and sweat excessively daily, have fine, oily hair or live in a very humid climate, then you should shampoo less often.
How often? That's still up for debate, but as a general rule a few times a week should suffice. "Generally, it's advisable to wash hair twice a week, or every second day if your hair and scalp are prone to oil build-up," says Nick Campbell, barber at Ruffians, an award-winning barbershop with branches in London and Edinburgh. "On days you don't shampoo, rinsing your hair with warm water can help remove salts and residue from any water-soluble styling products." It won't however remove excess sebum, so if you're prone to dandruff, you should err towards shampooing more often.
As for technique, Campbell recommends wetting your hair thoroughly first. Then squirt a coin-sized dollop (more if your hair is longer than a couple of inches) into your palm, rub your hands together and massage gently, but thoroughly through your scalp and roots for 30 seconds or so before rinsing completely.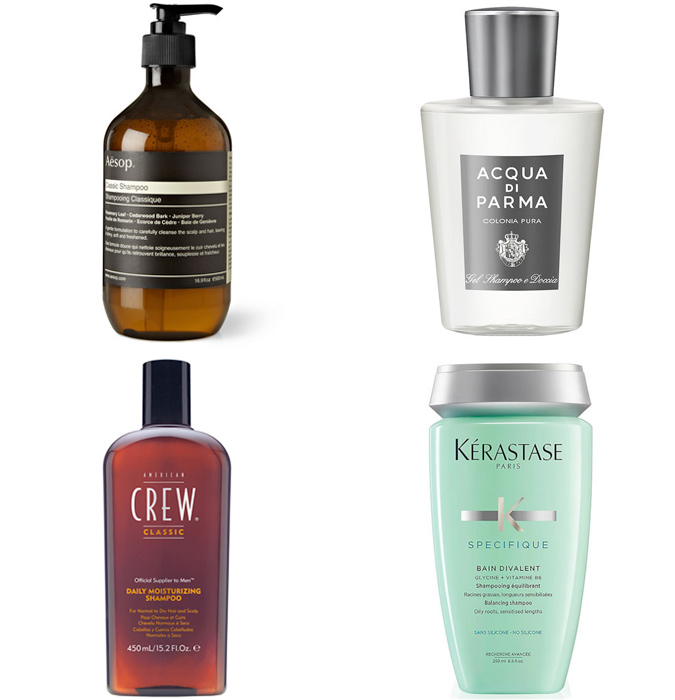 Conditioner
Would you wash your face without applying moisturiser afterwards? No, of course you wouldn't. That'd be ridiculous. Much like moisturiser restores all-important moisture to skin, so too a conditioner restores to your scalp the moisture a shampoo strips away.
"Conditioner smoothens your hair while adding shine and reducing static," says trichologist Anabel Kingsley. Although often considered the preserve of those with long hair, the hair-softening, frizz-preventing benefits of conditioner can be reaped by all men, no matter their hair length and type.
But what's the best way to go about it? "You should aim to condition your hair every time you wash it with shampoo," says Kingsley. "Once you've rinsed your hair thoroughly of shampoo, smoothen a coin-sized amount of conditioner through your hair, making sure to apply to your mid-lengths and ends only as this is where moisture is needed most, but also, rubbing conditioner into your roots can have an adverse effect of leaving hair looking flat and greasy."
For men with particularly dry and/or coarse hair, leave-in conditioners (i.e. conditioners you don't wash out) are also worth a look. "Leave-in conditioners not only add moisture to hair, but they can be used as a styling aid too," says Mark Maciver, AKA Slider Cuts, a London-based barber whose clients include Anthony Joshua and Stormzy. "This is especially useful when trying to achieve curlier styles with afro hair as the softer the hair is, the more easily it curls."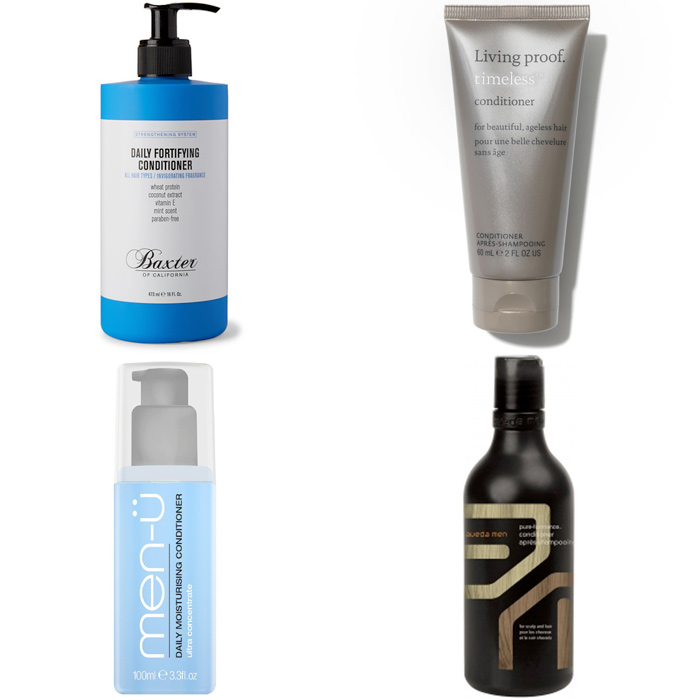 What To Look Out For
According to Campbell, there are a few ingredients you should try to avoid if you have a sensitive scalp or hair that's prone to damage:
Sulphates (or Sulfates). Commonly used as foaming agents in cosmetics, sulphates – of which the most frequently used is sodium lauryl sulphate – have been shown to irritate and excessively dry the scalp. Although officially classed as 'low hazard', it's best to avoid sulfates if your skin is on the sensitive side.
Parabens. A class of preservatives often used in cosmetics, parabens are used to extend a product's shelf life. While there's no conclusive research to show that they're dangerous, some studies suggest parabens can interfere with the body's endocrine, or hormonal system, as well as increase the sensitivity of your skin.
Silicones. Ending in 'cone' (eg dimethicone) and 'siloxane' (trisiloxane), silicones are used in products to coat hair in a waterproof film that makes it appear shiny and feel silky. However, if used regularly, silicone-based products can lead to a build-up of silicone which has the adverse effect of preventing conditioner from penetrating the hair shaft.
Adam Gore, founder of, and chief groomer at Birmingham barbershop Barberology also recommends steering clear of oil-based conditioners, "which don't work well on men's hair as they tend to weigh it down and make it harder to style."
Remember to always read the label, too. Since not everyone's definition of "natural" or "organic" is the same, so too not every natural, organic shampoo is entirely free from potentially irritating and/or harmful ingredients.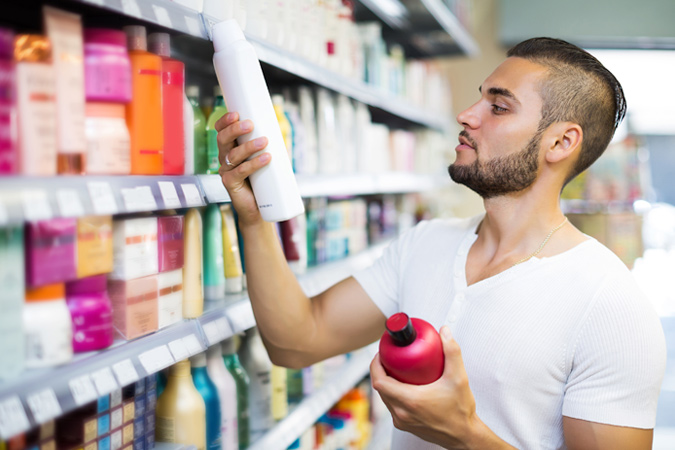 Hairstyling
Now that we've covered the basics of building a solid foundation for healthy hair, it's time to talk about how to make the most of it.
But first, some hairstyling housekeeping:
Less is more. As one old Brylcreem advert put it: 'Just a little dab'll do ya'. That is to say that, while you can always add more product, you can't take excess away, short of, you know, washing your hair and starting all over again. This applies to all styling products, no matter how light and soluble they are. Use only enough to get your hair where you want it to go.
Take a break. While styling products are great for achieving looks you couldn't otherwise achieve, overuse can actually negatively affect the condition of your hair. "Give your hair rest days when possible," says barber Nick Campbell. "If you wash, dry and use styling product on your hair daily, you should aim to give your hair one or two days rest per week so that it has a chance to 'breathe' free from products."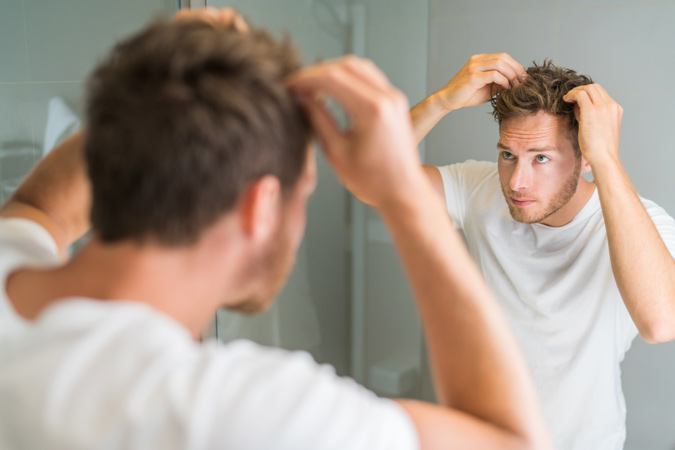 The Best Hairstyling Products
Pomade
Essential for slick, high-shine hairstyles that require cement-level hold, pomade is a thick, viscous product perfect for creating quiffs, pompadours and sharp, and Don Draper-esque side partings.
Pomades can be split into two main types: oil-based and water-based. Oil-based pomades offer supreme hold, but can require several shampoos to wash out, while lighter water-based pomades sacrifice some of that strength for ease of removal. Both are the hairstyling equivalent of superglue, and best used on medium to thick hair to create ambitious styles with a lot of height.
N.B. Do not use pomade on exceptionally fine and/or thinning hair. It tends to clump hair together, which – coupled with its sheen – can highlight sparse or bald areas of the scalp.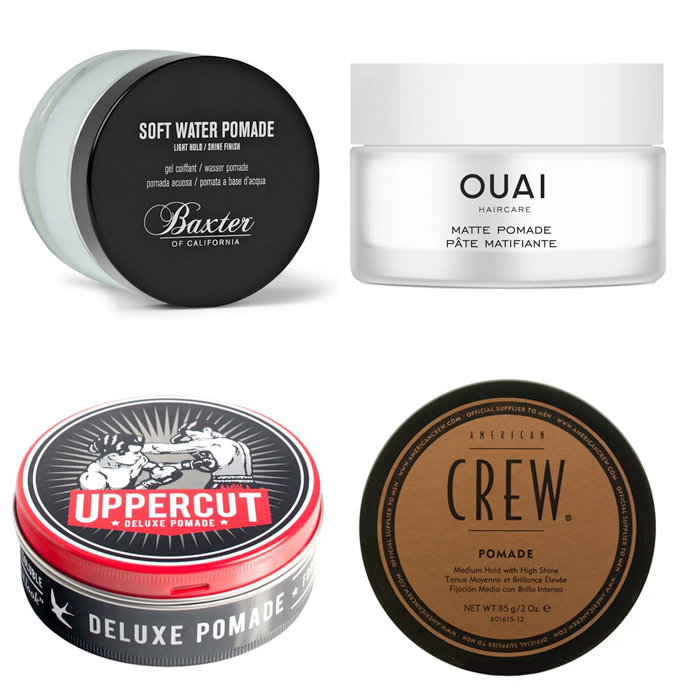 Styling Cream
For men who like a light-touch finish, styling cream adds a subtle shine to your locks while guaranteeing a low to–at best–medium hold.
Of all men's hairstyling products, cream is the one that most closely resembles sebum (which, if you recall from earlier, is your hair and scalp's natural moisturiser), so it's best for men who want to replicate that softened, frizz-free look you get from not washing your hair for a day or two.
Definitely not one for sculpting skyscraper styles, most styling creams won't support so much as an upswept fringe. Because of this lightness, they're a must for men with very fine and/or thinning hair whose thatch needs a product that won't weigh it down.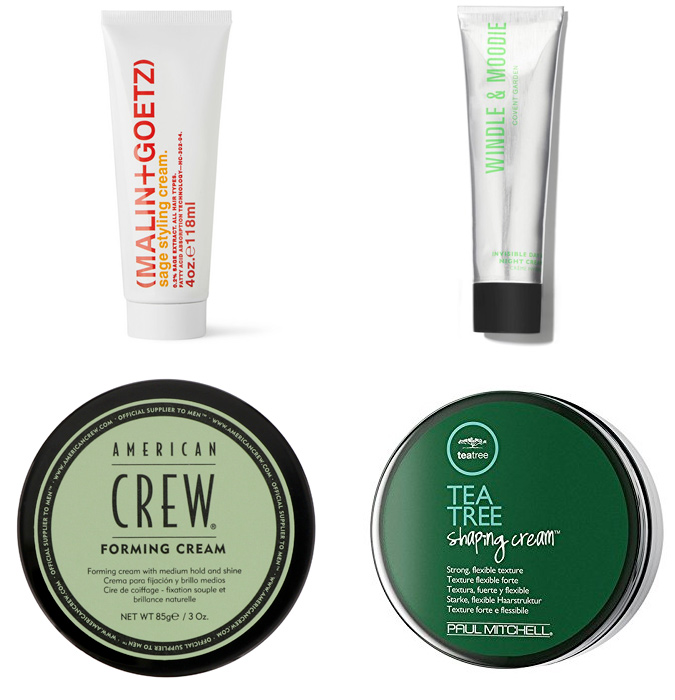 Gel
A jelly-like substance used to hold and dress hair, gel is arguably the most popular men's hairstyling product on the market. It's also, sadly, the most frequently abused.
Despite its ubiquity, gel really isn't the everyday styling product many men believe it to be. In fact, unless you opt for a mohawk or manga-inspired spiky mound on a daily basis, a strong-hold, high-shine hair gel is probably one of the worst products you could (mis)use. Sure, it gives good hold and an eye-catching wet-look finish, but when used as a way to lightly shape hair or sweep up a fringe – which is what many men born in the 1980s were led by ads to believe gel was intended for – it leaves your head in a mess of leaden, lifeless and frozen-solid strands.
For fans of the aforementioned styles, gel still has a place in your wash bag, though you should remember to always apply sparingly. For everyone else, there's literally anything else.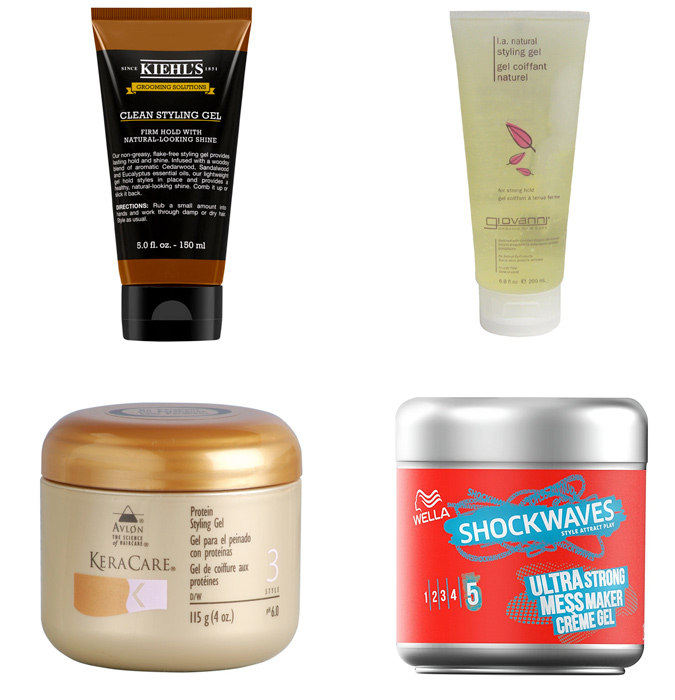 Paste
Like a cross between styling cream and pomade, hair paste is a thick, yet highly pliable styling product that lends your hair a textured look, while also offering a medium-to-strong hold.
A true all-rounder, paste is versatile enough to be used on short, medium and long hair (of all thicknesses) to create a slew of different styles ranging from a lightly shaped fringe to – when used in conjunction with a hair dryer – more voluminous styles such as a loose quiff.
Most pastes leave hair with a matte finish (though there are slightly shinier options on offer, too) and, being water-based, they tend to wash out pretty easily as well.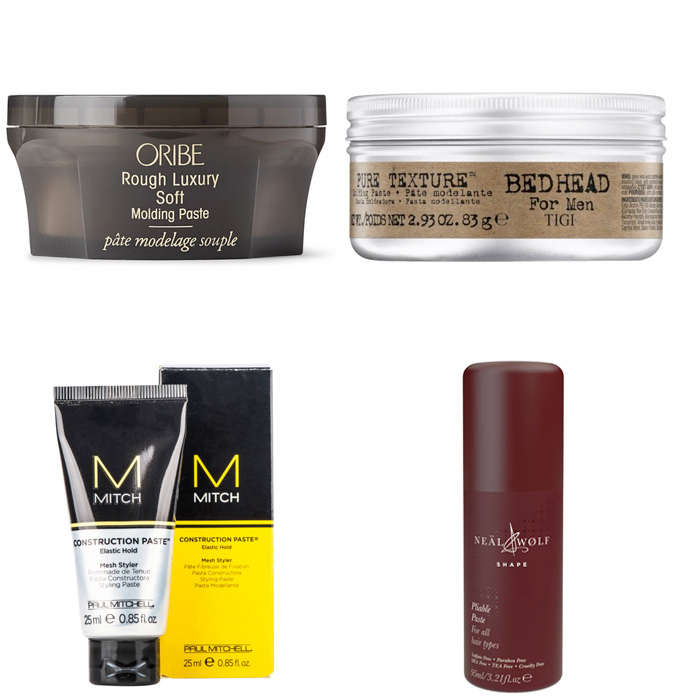 Wax
Somewhere between a gel and a pomade, wax offers better hold than the former, but is more manageable (and washes out more easily) than the latter.
Wax is perhaps best thought of as a pomade, but weaker. So it's a shoo-in for slick and/or vertiginous styles usually only achievable with pomade, although it offers a less soldered, more flexible finish. If you're partial to a quiff, pompadour, side parting or slick-back, but want a more textured, less pristine take on your chosen style, then wax is one to add to your shopping list.
Bear in mind that although wax is not as thick and heavy as pomade, it still isn't a great option for thinning or curly hair that hasn't already been heat-styled.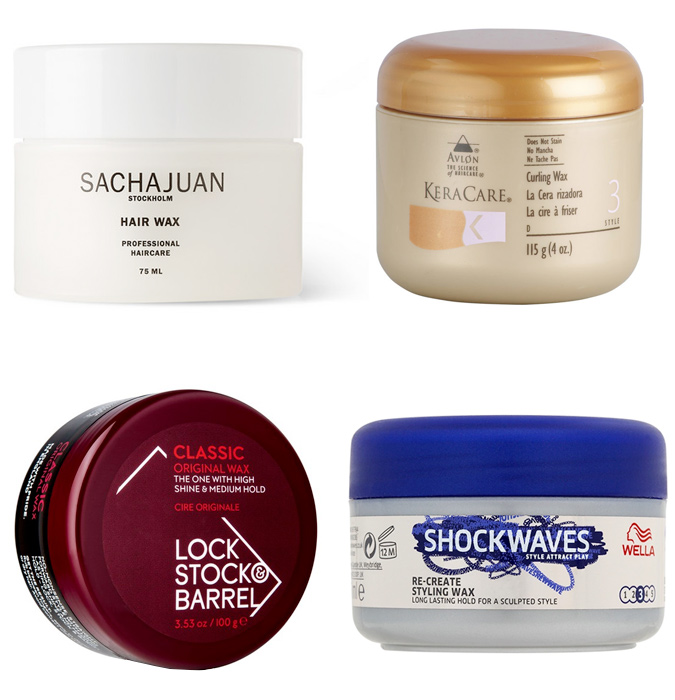 Clay
A drier, duller and less glue-like alternative to pomade and wax, hair clay is the perfect product for creating medium- to strong-hold styles with a matte finish – think loose quiffs and bed-head styles with a highly textured appearance.
Like paste and wax, clay can be reworked slightly hours after application, but not quite to the same extent as its more pliable counterparts; hold-wise it functions more like a natural-looking pomade.
It's also worth noting that hair clay is formulated with actual clay (usually bentonite or kaolin, which are both naturally occurring substances), which swells to dial up your hair's volume, giving a welcome boost to its overall body and shape.
There's also some evidence to suggest that clay's active ingredient detoxifies your hair and scalp, helping to draw out metals and toxins, while also delivering much needed minerals such as sodium, potassium and calcium.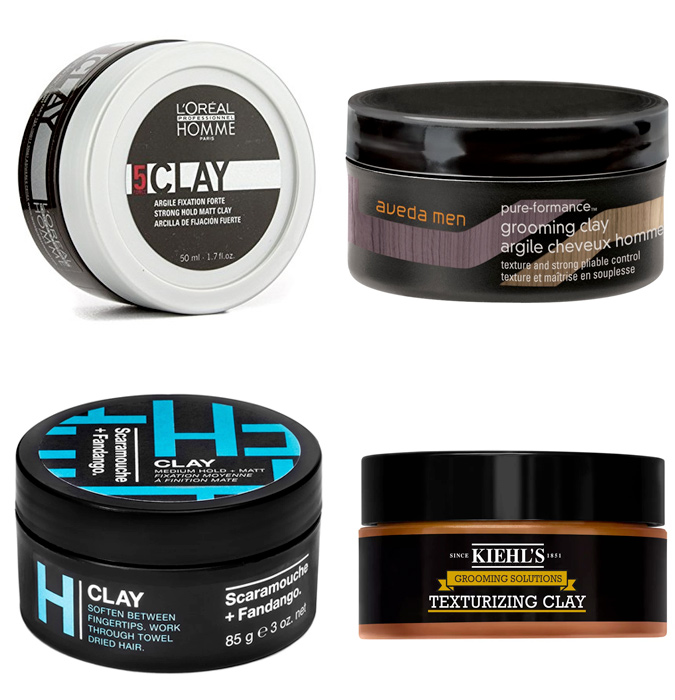 Sea Salt Spray
While it might sound like something that belongs in your fridge's condiment drawer rather than your bathroom cabinet, sea salt spray is in fact a relatively new men's hairstyling essential.
Formulated with, you guessed it, salt, this known texture-booster is used to recreate that lightly tousled look your hair gets after a day spent relaxing on the beach. The spray's salt soaks up oil, volumising your locks and enhancing their natural kinks and curls. Simply spritz onto your hair, work through with your fingers to shape and you're good to go.
Especially useful for fine and/or thinning hair, salt spray makes your hair appear thicker and more richly textured. As it's light, it makes a good styling base for bigger styles too, so you might want to try applying it before deploying something heavier like a pomade or wax for extra support and volume. Don't overdo it though: like anything salty it tends to dehydrate, so excessive use can cause your hair to become dry and brittle.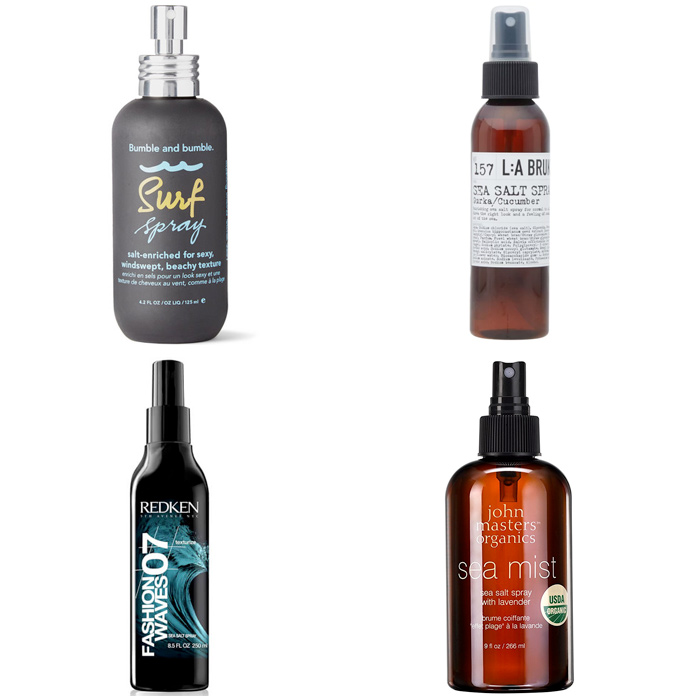 Hairspray
Not just for your gran, hairspray is a must for styles that need some serious hold. Made from a blend of polymers, hairsprays provide structural support for hair, helping it to retain its shape while also adding a healthy dose of shine.
Unlike its listmates here, hairspray is more supporting act than main event. Rather than a styling product in and of itself, it's designed to be used at the end of styling to bolster whatever shape you've created, helping 'set' the style so that it won't wither away within a few hours.
Hairspray comes in a variety of strengths, from flexible- to medium- to strong-hold, but unless you're looking to add beauty pageant-level shine to your hair, it's pointless using anything other than the strong stuff.
Top tip: use only when your style needs cementing, and spray liberally, taking care not to drop dead from fumes before the world gets to see your 'do.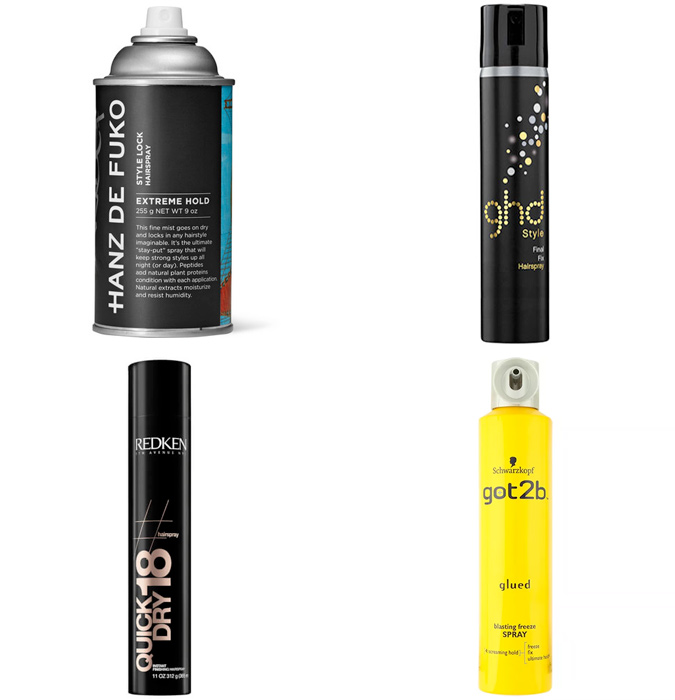 Hairstyling Accessories
Hair Dryer
While most men manage perfectly well without one, a hair dryer will come in handy when: drying hair that's not short i.e. more than a few inches long; if you want to lend your hair some lasting shape and volume; or if you want to create heavily structured styles such as quiffs and pompadours.
When it comes to purchasing a good one, there are three key things to look out for: a wattage of 1800 or more (a higher wattage means a more powerful dryer, which means faster drying, which in turn means less damage done to hair); ceramic and tourmaline technologies (the former adds shine while preventing hair from frizzing; the latter generates negative ions to reduce drying time and static); and additional features such as attachments for styling and a 'cool shot' button, which can be used at the end of styling to blast hair with cool air to help set it in place.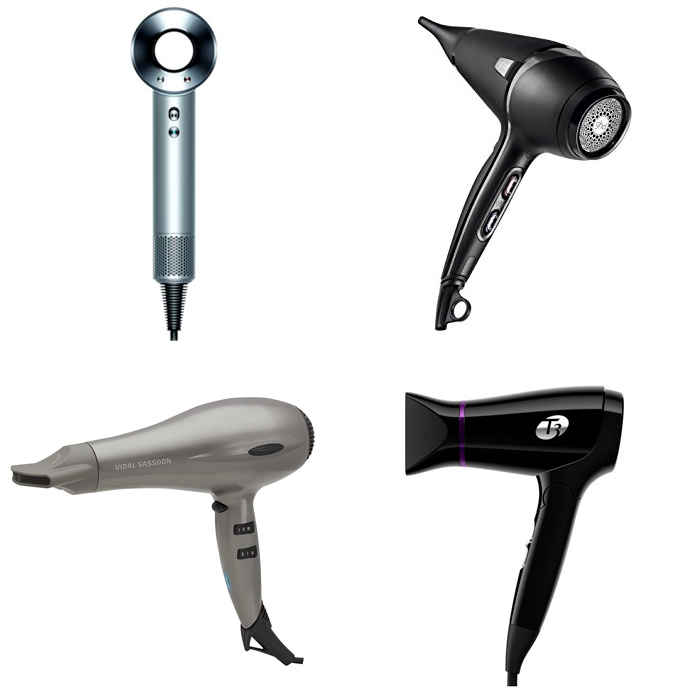 Comb
Invaluable, whatever your hair type, a good comb not only serves as an effective styling tool, but also exfoliates the scalp, stimulates the production of sebum and increases blood flow to the area to help circulate nutrients important for hair health.
Avoid metal combs (which have edges so sharp that they can lacerate hair strands), and instead look for saw-cut horn or plastic ones which have teeth that are individually cut-in–rather than moulded for a smoother, less abrasive effect.
Make sure too, to find a comb that's made for your hair type. Remember: the thicker the hair, the wider the tooth. If you have thin, straight hair, a fine-tooth comb works well, but you'll need a wide-tooth one to tame thick, wavy or curly hair.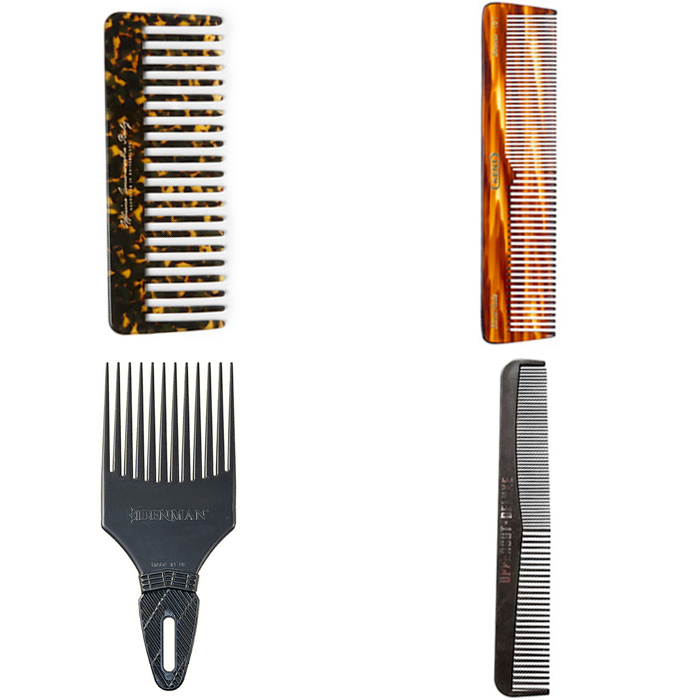 Brush
If you have medium-length or long hair, it's best to use a brush, rather than a comb, to groom your hair. The main reason for this is that sebum produced by the scalp needs help in reaching the full hair shaft by being brushed from the root right down to the tip.
Now, while you could technically do that with a comb, it makes a lot more sense to reserve your comb for spot-detangling and use the brush for the bulk of the work instead. Plus, if you choose the right one, you'll also have a powerful styling tool at your disposal.
To that end, a paddle or vent brush is your best bet. Both of these brush types are easy to use when dry brushing or when styling the hair in combination with product and/or a hair dryer (though the vent does have the slight advantage of being slightly more slender and manoeuvrable).