Shaving – proper wet shaving, with razors, shaving creams, and fancy brushes – is one the great banes of the average man's life: a hassle that demands time, irritable skin, and a cabinet's worth of accessories. It's a daily grind that convinces many men to forget it and grow a beard instead.
Electric shavers have long been the solution, but some men are still reluctant to make the switch, thanks to an age-old assumption that electric just can't get as close as the old school razor. But the technology behind electric shavers is, well, sharper than ever, from foils and rotary heads to sensors and tracking systems. Even grooming purists would agree there's never been a better time to plug in and play.
Electric Shaving: The Pros And Cons
That's not to say it's all good. In the same way wet shaving has its advantages (super-smooth results) and disadvantages (nicks, cuts and a plughole blocked with stubble), electric shaving has its pros and cons too:
The Pros
Today's electric shavers are designed to deliver the closest of shaves with the minimum of fuss, mess and dodgy-looking rashes. Due to the fact that they get the job done with fewer passes and the blades never come into direct contact with the skin, electric shavers are a good option for guys with sensitive or blemish-prone skin and – since traditional razor blades prefer shavers with smoother complexions – older guys whose skin may be a little craggier too.
Electric shavers don't slice hairs below the surface of the skin like blades either. Instead, they push the skin up ahead of the cutters to raise the hairs, meaning the risk of painful ingrown hairs is minimised.
Plus, there's virtually no prep required and – because you don't need water to use them – they're perfect for on-the-go or on-a-hangover grooming.
The Cons
As with all high-tech grooming gadgets, an electric shaver means a significant initial investment – although entry-level options can often be picked up for under £50 and high-end models are frequently discounted.
Regardless of how much you spend, don't expect your shave to be quite as close as with a regular razor and remember that electric models require maintenance and only work when sufficiently charged (if you've ever owned an electric toothbrush, you'll know how easy it is to forget to charge them).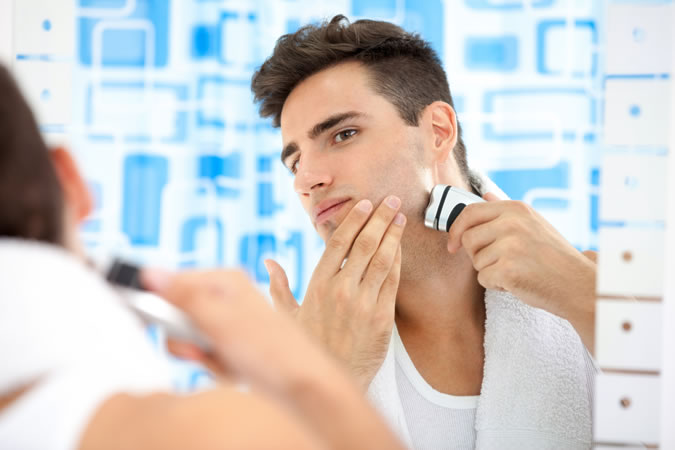 Foil Or Rotary?
Electric shavers come in two forms: foil and rotary. Both deliver great results but there are subtle differences between them and it's worth bearing these in mind when deciding which type of shaver to go for:
Foil Shavers
These feature horizontal blades protected by a flexible, perforated foil which captures hairs in its tiny slots so they can be cleanly sliced by the blades. They're great if you have soft or fine stubble, shave every day, or have a facial hair style to navigate.
They're simple to use (you shave using a straightforward back and forth motion) and are ideal for guys who shave daily and want exceptionally close results. This ease of use also means they're perfect for younger guys getting to grips with shaving and electric newbies.
Rotary fans will argue until their dying breath about which type is better but, of the two, foil shavers are generally thought to produce the closer shave.
Rotary Shavers
As the name implies, rotary shavers consist of two or three separate rotating heads. These are designed to capture hairs growing in different directions and to hug the contours of the face.
They're especially good at dealing with longer, tougher hairs and are ideal if you prefer to alternate between being clean-shaven and sporting stubble.
The Best Brands For Electric Shavers
Phillips
Whether you're after shavers, clippers, or beard trimmers, Phillips remains amongst the world's most popular manufacturers of hair-chopping devices. Its latest and most advanced models feature with contour detect technology that helps the 8-direction heads flex into every nook and cranny of your face – plus, a V-track system that will guide hairs into the best position for hacking off. It's also designed for both wet and dry shaving.
Buy Now: £242.99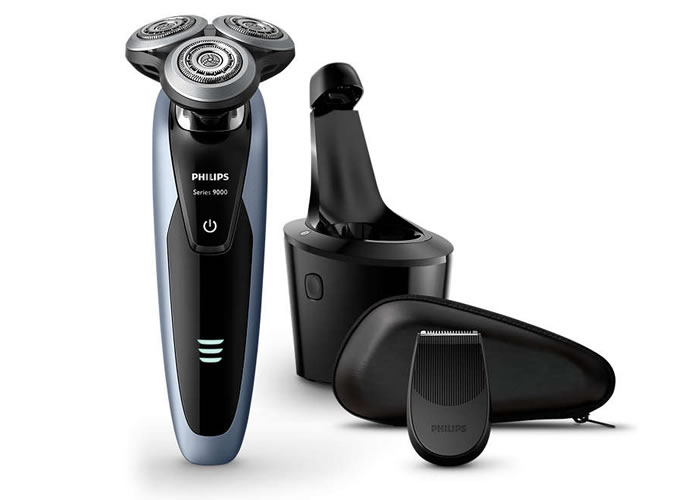 Braun
The popular German brand is known for its range of long-lasting, innovative shavers and hair clippers. Whatever type of look you prefer – full beard, stubble, or baby's bum smooth – you can be sure Braun has a product that does the trick. Its waterproof Series 9 uses custom technology to scan your hairs and adjust power according to the thickness. The brand's other big sell is SyncroSonic Technology, which delivers 40,000 cross-cutting actions per minute.
Buy Now: £208.40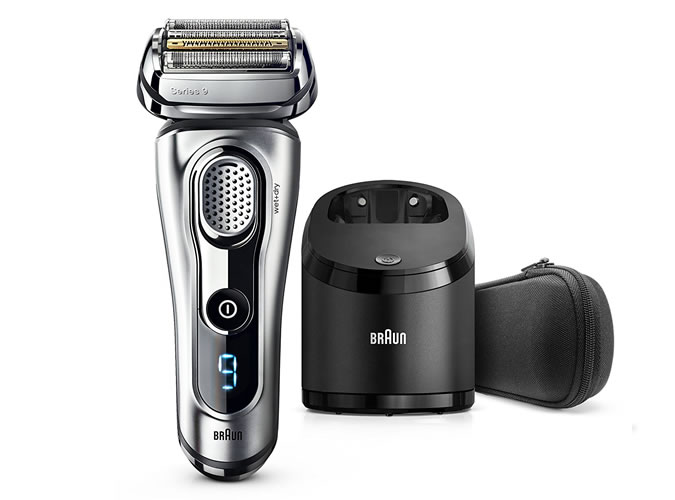 Panasonic
The Japanese tech giant has selection of electric shavers, from entry level to super-duper spec (depending on how cash to want to spend, of course). Its award-winning premium models feature a 5-blade system that angles the ultra-sharp nanotech blades at 30 degrees for the closest possible shave. It puts the work in too: 14,000 cuts and 70,000 cross-cutting actions per minute. That one also comes with a charging station that cleans as it charges.
Buy Now: £171.56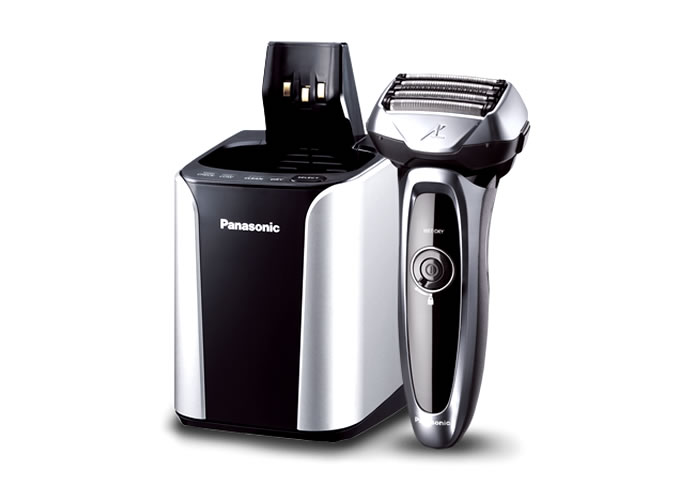 Remington
Though best known a manufacturer of classic American razors, you don't stay one of the world's top shaving brands without getting ahead of the game with electric shavers. In fact, Remington boasts to have made the world's very first electric shaver. Its unique-looking Flex360 fits in the palm of your hand, which helps you get a more natural movement from the flex of your wrist, instead of being restricted by a bulky handle. Remington's own Hyperflex technology guides the rotary blades across the contours of your face.
Buy Now: £39.99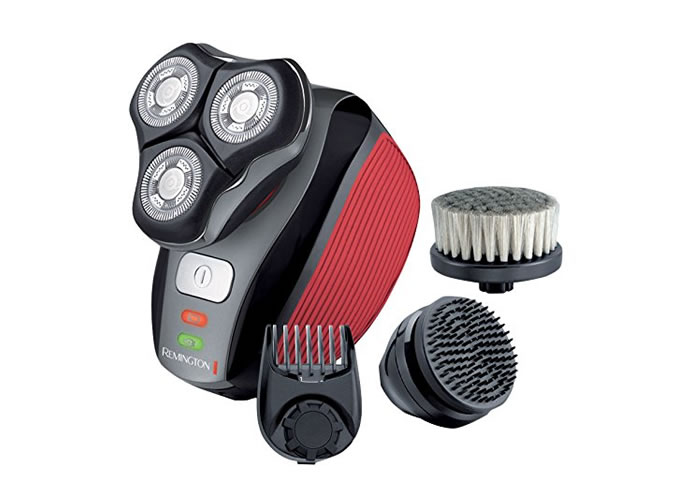 Wahl
US-based brand Wahl has a reputation for being a favourite among professionals, so it's not rare to see one of its clippers or trimmers being used in a barbershop. As well as efficient, adjustable blades at fair prices, look for a Swiss Army-style pull-out trimmer for tidying up sideburns, facial hair, and necklines.
Buy Now: £44.93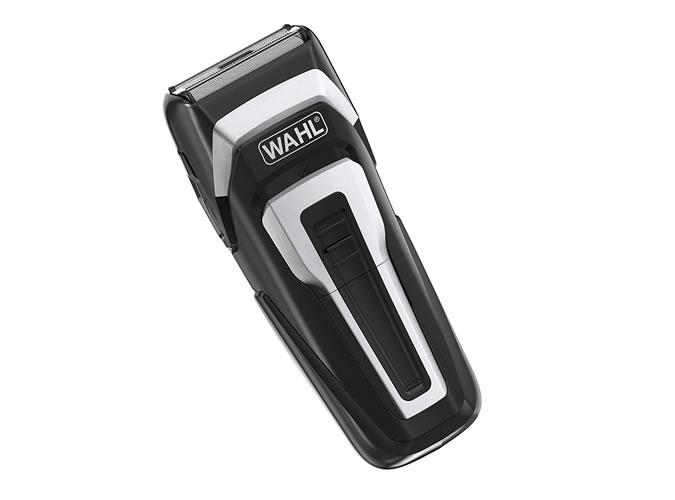 Boots
Not everyone needs a state-of-the-art gadget that turns their bathroom into Q branch. Sometimes a basic quick-and-easy shaver will do the trick. And who better to trust than the UK's number one high street chemist, which has an own-brand solution to almost every ailment, illness, an unsightly body situation going. Its electric shaver is a straight-up unfussy piece, with with dual foil heads, stainless steel blades, and a pop-up detail trimmer. Also washable and detachable for cordless use.
Buy Now: £19.99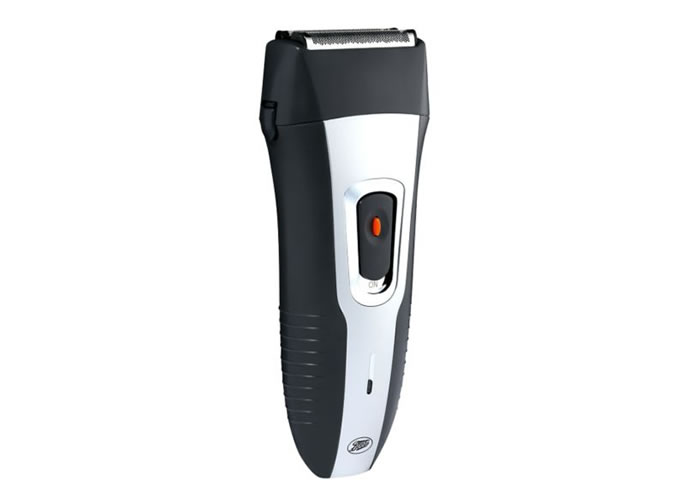 Trevor Sorbie
One of the UK's most celebrated stylists (her Majesty doesn't hand out MBEs for hairdressing to just anyone with a pair of scissors), Sorbie's shaver is part of range of electrical men's hair products – from tongs to nose hair trimmers, fellas, depending on your hair needs. The dual foil head has stainless steel blades and three-cut action, with a pop-up trimmer and high-powered motor. A trusty shaver from well trusted professionals.
Buy Now: £99.99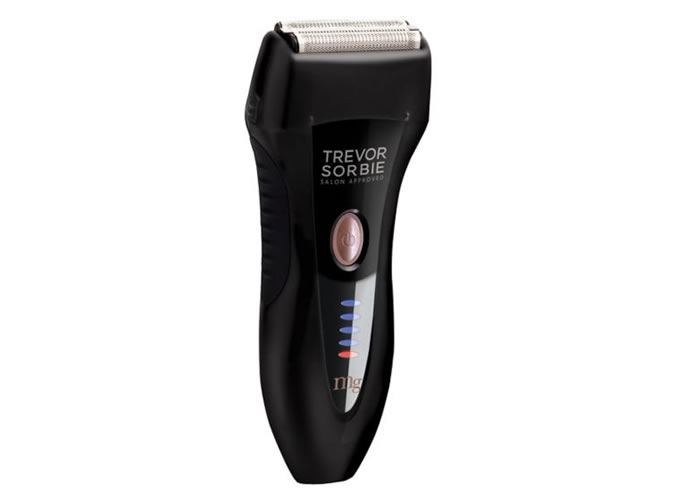 Andis
Andis might not be one of the big name players in Europe, but it's a major manufacturer of grooming devices in the US – and a popular brand amongst barbering pros. The company's TS-1 may be handy and lightweight, but it's a beast of a shaver. The twin gold titanium foils are hypoallergenic, so it's irritation free – perfect for sensitive skin – while the lithium ion battery packs in 80 minutes of runtime, making it a perfect travel companion.
Buy Now: £55.00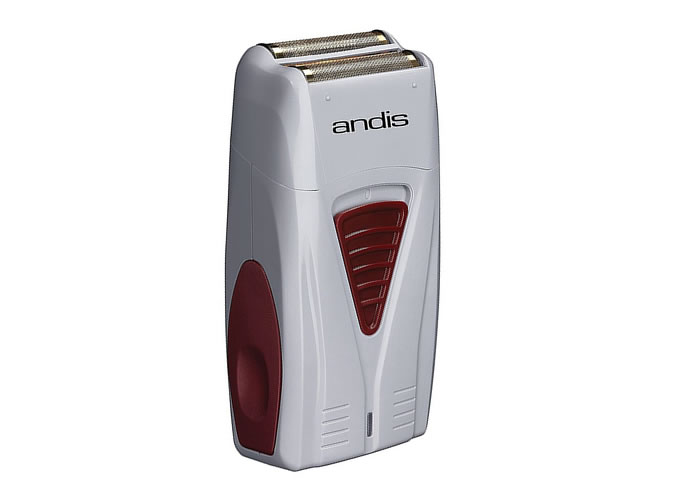 Phisco
Phisco probably isn't a brand you know, but if you're after a shaver that's both affordable and reliable, it's a solid choice. The IPX7 includes rotary blades that follow all the contours and lines of your face, while automatic grinding tech keeps the blades sharp while they work. It's also waterproof for wet or dry shaving, plus a pop-up trimmer allows to tidy up edges. It's particularly handy for Android phone users, as it can be charged using the Samsung lead.
Buy Now: £35.79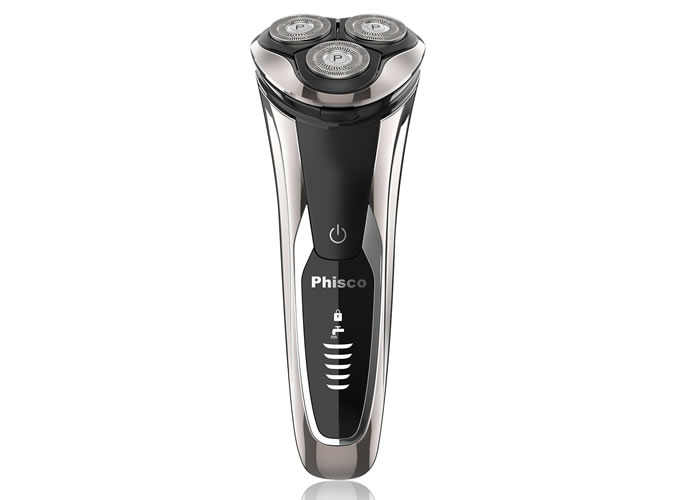 SweetLF
More than just a grooming brand, Sweet LF is an electronics company that describes itself as "charging experts and innovators" – specialising in items that have impressive charge and run times. True to form, the SweetLF shaver will go for an impressive 120 minutes. It promises to deliver a close shave, with flexible triple rotary heads. Includes a trimmer for sideburns and hairlines, plus a pop-open head that's east to rinse clean.
Buy Now: £29.99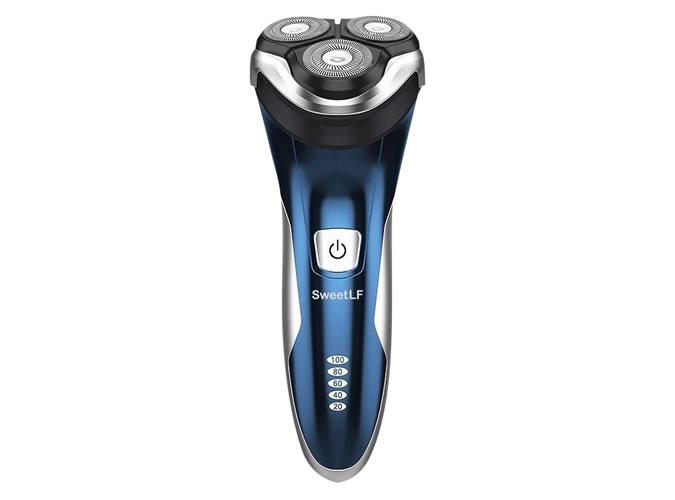 How To Get The Most Out Of Your Shaver
Much like learning to drive, using an electric shaver takes a little practice. Here are a few tips for getting the most out of yours:
Take The Heat Out Of Your Shave
Since shavers generate heat as they go to work (and heat can irritate sensitive skin), it's best to shave sensitive parts of your face first to avoid any discomfort or irritation.
That means starting with the neck and the area around the jawbone when the shaver is coolest and then moving on to the chin and upper lip where the skin is less sensitive.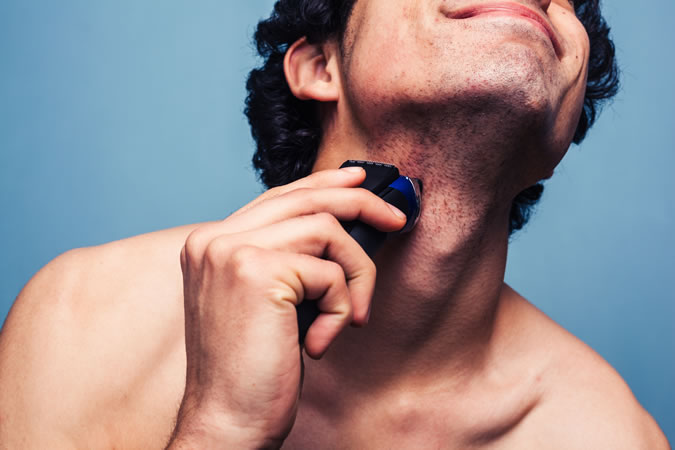 Stretch The Skin
For Roger Moore-smooth results, gently stretch the skin you're about to shave with your fingertips. This will ensure that the stubble lifts off the skin, making it easier to cut, and will also enable you to get to those hard-to-reach nooks and crannies.
Take The Pressure Off
The whole point of electric shavers is that they should do all the work for you. For best results, don't press yours too hard against the skin. Apply with gentle but even pressure, ensuring constant contact with the skin.
Use The Right Prep
Ideally, stubble needs to be stiff, dry and grease-free when using an electric shaver – and the best product to help achieve this is a pre-shave one like Lab Series' Electric Shave Solution.
The advent of wet and dry shavers means these kinds of solutions aren't always necessary, but they still help if you're dry shaving. Never use shavers with shaving oils though – they play havoc with your shaver's blades.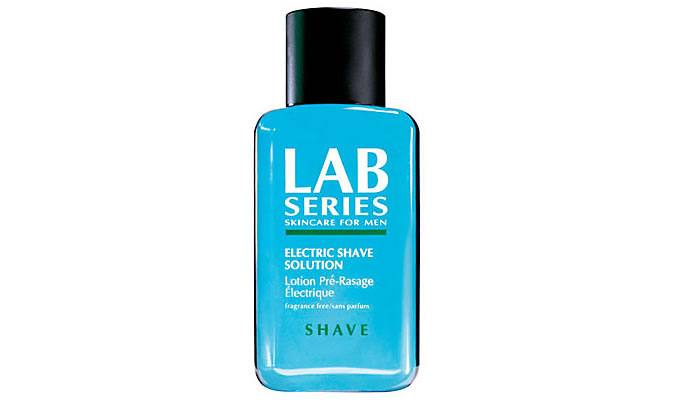 Perfect Your Technique
How you use your shaver depends on whether it's a foil or a rotary. If using a foil shaver, stick to sweeping back and forth motions to remove the hair; or if using a rotary shaver, shave using gentle circular motions.
Keep Things Clean
Modern shavers are designed to be as low-maintenance as possible but you do need to do some cleaning to keep the blades free of skin flakes and stubble.
To get the most out of your shaver, follow the cleaning instructions or, if you're time poor/lazy, pay a little extra and get one that comes with its own cleaning cleaning unit.
Keep In Trim
Many shavers are designed to deal with slightly longer stubble (the kind of stuff you get if you haven't shaven all weekend). But if you're switching from a beard to being clean-shaven, or have more than three day's growth to tend to, it's worth trimming stubble back with a beard trimmer before using your electric shaver.
Protect Your Assets
As with most gadgets, electric shavers have parts that require replacing occasionally. Check the instructions of your particular model for maintenance instructions but expect to replace the foil and cutter heads on a foil shaver and the heads on a rotary shaver every 18-24 months depending on use.
If you really love your particular model, however, it's worth buying a couple of replacement heads at once as they have a nasty habit of being discontinued after a few years.